Townsville, Queensland's largest city outside the Brisbane-Sunshine Coast-Gold Coast conurbation, is 1150 km north of Brisbane. Situated on Cleveland Bay, its flat landscape is overlooked by the red rock monolith of Castle Hill, known by the Wulgurukaba people as 'Cudtheringa'. Already a major port in the 1880s, Townsville's rail link to Brisbane opened in 1923. The city soon developed a large industrial workforce with a reputation for radicalism. A major base for the United States and Australian troops during the war in the Pacific, Townsville re-emerged as a major military and then air force base from the mid-1960s. While its tourism business flourished in the 1980s, its economy has never been dependent on tourism, unlike its northern rival, Cairns.
EXPLORATION AND SURVEY
It was established in 1864 on an inauspicious harbour, Cleveland Bay, which had been named by James Cook in 1770. Cook also named Cape Cleveland and 'Magnetical' (Magnetic) Island five km offshore, which provides protection from heavy Pacific Ocean swells. Cleveland Bay was charted in 1819 by Phillip Parker King and Allan Cunningham during a botanical expedition.
Ludwig Leichhardt explored the inland in 1844 through the Burdekin valley. George Dalrymple made a more detailed survey of the Burdekin in 1860 and in 1861 carried out a coastal survey. He proposed that a port be established at Bowen (170 km south of Townsville) to serve inland pastoral interests, perhaps influenced by the proximity of the Valley of Lagoons (described by Leichhardt) which he had taken up in a partnership as a pastoral run.
A pastoral invasion of the Burdekin valley quickly followed, most of it north-west of Bowen. Apart from distance, pastoralists could be separated from Bowen by the Burdekin River in flood, and bridging it was out of the question. Cardwell port (140 km north of Townsville) was similarly disadvantaged.
TOWNSVILLE SETTLEMENT
In 1862 a former freight carrier and theatrical entrepreneur, John Melton Black, formed a partnership for a north Queensland pastoral venture. In 1863 he took up runs with a frontage to Cleveland Bay. Upon the withdrawal of his partners from the venture Black found a substantial and politically influential investor in Robert Towns. Towns wanted a large and accessible property (Black's runs exceeded 1000 sq km), with scope for a boiling-down works to handle livestock when prices fell. He was offered a half share in Black and Co. A rudimentary settlement began on Cleveland Bay at Ross Creek, which had at first been mistaken for a substantial river mouth, but was adequate for light coastal vessels. Black found and marked out a route from the upper Burdekin settlement of Dalrymple (on the Burdekin, north-west of Charters Towers) by which livestock could be brought to the coast for transport or slaughter.
A hotel was opened in 1864 and a government surveyor mapped out a town plan. Townsville - named after the financial backer rather than Black - then consisted of the few blocks east of Wickham Street and subdivisions along the Strand up to Burke Street, and a similar layout along the west bank of Ross Creek. Town lots were auctioned and market gardens established; the boiling-down works up the Ross River were operational by 1866 and a customs house was erected after Townsville had been declared a port of entry. Monthly steamer services began from Bowen in 1866 and local government was established with Townsville being declared a municipality. The Cleveland Bay Herald, soon replaced by the Cleveland Bay Express, also began publication in 1866.
INDUSTRY AND REGIONAL ROLE
Just as pastoral settlement had been north-west of Townsville, beyond the convenient reach of Bowen, so too were the gold discoveries that began in 1867 on the upper Cape River. There were gold finds at Ravenswood in 1868 and at Charters Towers in 1872. Townsville served as port of entry for commodities for the gold fields as well as the pastoral industry. Several Townsville merchants opened branch stores at the diggings.
Townsville was pre-eminently a place of commerce. Its best public buildings were the two-storeyed hotels and music halls, while the town hall, court house, customs house and school (1869) were more utilitarian. The hospital was isolated on Ross Island. It took five years for a school to be opened, and longer for churches: Anglican (1871), Catholic (1872), Congregational (1875) and Presbyterian (1884). Proposed in 1866, the school of arts was built in 1877, incorporating a library and reading room that had been in borrowed premises.
In 1874 Robert Philp joined James Burns in his Townsville business, so beginning the renowned Burns Philp conglomerate which traded in most of the western Pacific. Meanwhile, it supplied much of north Queensland. Local merchants and Charters Towers interests agitated for a railway; a survey began in 1875 and the route was opened in 1882, with a branch to Ravenswood in 1884. The line went further west to Hughenden (1887) and to the Cloncurry copper mines (1908). From its beginning the line was known as the Great Northern Railway (GNR). As plans were being made for the railway a program of works began for an outer harbour. The challenge was to build a breakwater and jetty far enough out to sea to reach deep water. Meanwhile, lighters conveyed goods to the shore.
Utilitarian building design ceased to be the norm with the erection of elaborate premises for the Queensland National Bank and the Bank of Australasia in 1884, the Union Bank in 1885 and the Australian Bank of Commerce in 1888. All fronted Flinders Street, Townville's main commercial street. Hotels emulated the architectural grandeur of halls of commerce, but schools and churches were mostly timber and tin. The landscape bore some serious scars. Stone had been quarried from the Strand and elsewhere for harbour breakwaters, and trees had been cut down for steamship fuel. As the trees went, so did the lagoons, and domestic goats cleared up the undergrowth and herbage. Exceptions were German Gardens (renamed Belgian Gardens during World War I), Hermit Park and Mundingburra, the resorts of the better-off residents who had conveyances to get to work. The walk-to-work population inhabited Ross Island and crossed to town by the ferry.
In 1879 a meeting of investors was held to form a company for a boiling-down works at Alligator Creek. The company's deliberations were followed by a decision to start the North Queensland Pastoral and Agricultural Society. The first agricultural show was held the next year in the botanical gardens, and by 1882 a show ring venue was found at West End. The boiling-down works went out of business in the mid-1880s and was replaced by a meat works in 1890. A meat freezing works on Ross River was opened in 1891. These activities added to the export shipping out of Townsville. Another link was added when the Townsville council and two adjoining local government boards built a tramway from the Ayr sugar plantations. These industries cushioned the downturns in mining output, although railway extensions beyond Cloncurry to new copper mines (1910-17), and later to Mount Isa, introduced new demands for the carriage of freight.
Townsville was described in 1903 in the Australian handbook: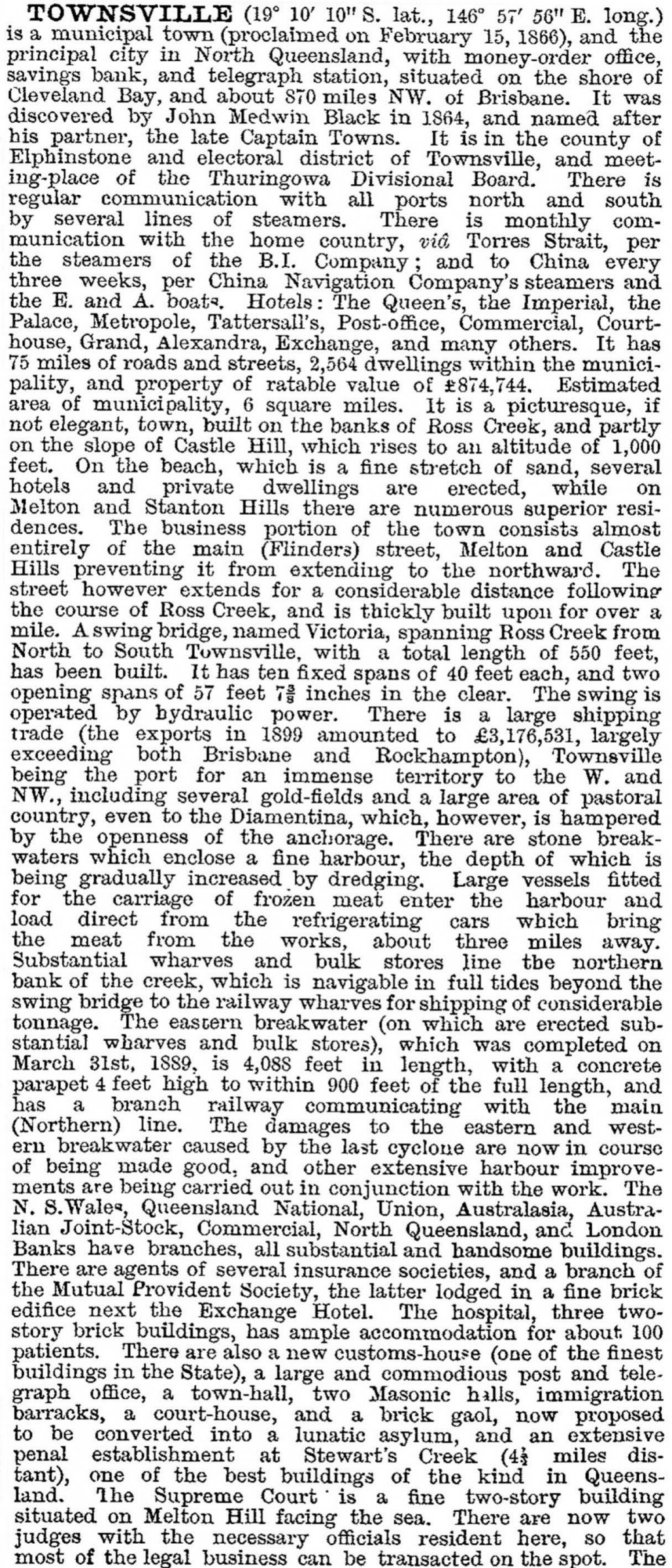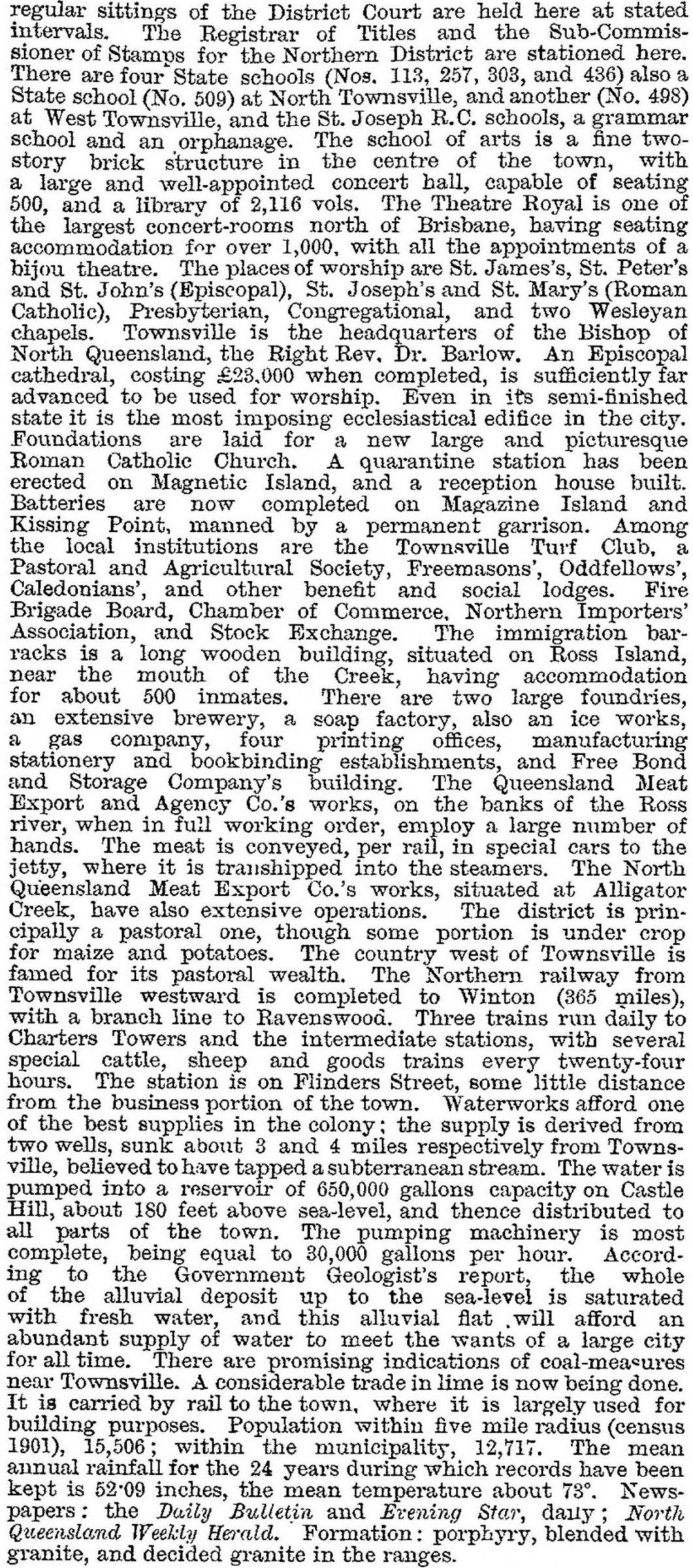 URBAN REQUIREMENTS
Townsville was made a city in 1902, the same year a grand new customs house opened. A Church of England cathedral was completed and dedicated in 1892 and the Sacred Heart Catholic building (1902) was raised to the status of a cathedral in 1930. Private secondary education began with Townsville Grammar (1888) for boys, which became co-educational in 1893. The Catholic girls' school, St Patrick's college on the Strand, was started at about the same time. Cathedral School, an Anglican girls' school, began in 1917.
INDUSTRIAL ACTION
Although Townsville now resembled an elegant city, commercial imperatives were never far away. There were nearby disputes over miners' wages and conditions, and conflicts arising from the predatory practices of sugar interests which had not recovered from the removal of tractable foreign labour. As far back as the Shearers' strike in 1891, the Townsville Mounted Infantry had been posted to Hughenden, 320 km south-west of Townsville. Between 1916 and 1918 Townsville had strikes by seamen, sanitary employees and meatworkers. Shots were fired after a demonstration under the Tree of Knowledge, the traditional meeting place of workers and unionists, in Flinders Street in 1919. Along with several towns in north Queensland, Townsville had a branch of the Australian Communist Party, possibly as early as 1922. The Russian Workers' Association was active in coastal and mining towns, and the general tenor of the political scene attracted the attention of the Townsville Pastoral, Agricultural and Industrial Association in 1924, which assured its audience that: '... North Queensland is branded as the happy home of the Bolshevik ... [but] Few towns in the world are ponced by such a numerically insignificant force as Townsville ... a population of 23,500 only necessitates one sergeant and one constable on night duty'.
WORLD WAR II
Since the first land sales in 1865 there had been recurrent demands for separation from the southern regions. These abated after completion of the railway link to Brisbane in 1923. Any benefit from the rail link was extinguished though when rumours about the Brisbane line of defence erupted in 1941. Townsville's northern destiny had also been reinforced by the extension of the GNR to Mount Isa in 1929.
During World War II a strategic operational base was located at Garbutt, west of Castle Hill. Ingham Road was the main airfield, adjoined by a vast complex of hangars, workshops and stores to the south. The base was occupied by the United States 5th Air Force and the RAAF North Eastern Command. After the war the base reverted to a peacetime role, and a further 30 years passed before Townsville again became a significant air base.
In 1946 the Australian Blue Book acknowledged Townsville's commercial strength and tourist potential:

The war had kept the lid on industrial disputes, but in 1948 a three months' long railway strike broke out. A local barrister and communist member of the Queensland Parliament, Fred Patterson, defended striking workers and devised picketing techniques that skirted the law. Patterson was proof that the 'Red North' was still a force in Townsville's labour and politics.
POSTWAR GROWTH
During the 1950s industry boomed, with development of the Mount Isa copper refinery and a bulk sugar terminal at the port of Townsville. There were significant developments in tertiary education: Townsville University College opened at Pimlico in 1960, evolving into the James Cook University of North Queensland (later James Cook University) at a new campus at Douglas in 1970. The domestic airport, which opened in 1939, brought tourists to the numerous beaches on Magnetic Island. This was the only significant local holiday venue, as Townsville's rainfall does not grow year round tropical vegetation. In 1971 tourism-related employment was estimated at 6-7% of the total workforce. International flights began in 1980, but tourism did not grow significantly: the Whitsunday Islands were too far south, and better served by closer airports, and Cairns airport claimed northern tourism. International flights to Townsville ended in 1994. Employment in tourist-related activities increased by about two-thirds but, as a proportion of total employment, stayed much the same over the period 1971 to 2001. Jupiters (formerly Sheraton) hotel and casino next to the marina opened in 1986.
CYCLONES
Townsville has experienced several severe cyclones. The infant settlement was nearly demolished in 1867, and other violent storms were in 1896, 1903, 1956 and 1971. A cyclone in 1998 severely eroded the Strand beach. The council decided on a comprehensive refurbishment, involving over one million tonnes of fill and nearly 40,000 plants and trees, creating a promenade past two swimming enclosures and the Tobruk pool. The Museum of Tropical Queensland (2000), a campus of the Queensland Museum, overlooking the old port in Ross Creek, has displays of north Queensland cultural history and marine science.
CYCLONE YASI
On 3 February 2011 the Category 5 Cyclone Yasi crossed the Queensland coast, centred about 140 km north of Townsville. In anticipation of the cyclone passing closer to Townsville, 5000 homes were evacuated. Wind gusts of 135 km/hour were recorded, about half the velocity at the cyclone's most intense location. There was 9.5 metre storm tidal surge. South Townsville and Railway Estate were flooded.
INDUSTRY
In 1999 the Korea Zinc Company's subsidiary, Sun Metals Corporation, opened a zinc refinery just south of Townsville. Locational factors were crucial in the choice of Townsville: the rail link to the mineral source, access to export facilities and competitively priced energy. It added over 1500 jobs to Townville's economy, nearly two thirds of the tourism-related workforce.
EMPLOYMENT PROFILE
The posting of armed services units recommenced in 1966 with the Lavarack Army Barracks in Murray. Employment in the armed services increased by over 200%, to 2400, during the period of Australia's involvement in the Vietnam War. The Townsville air force base had a variety of tactical transport, engineering and combat units. Over 500 RAAF personnel were based there in 2000. Government, administration and defence were the second highest employment sector (after wholesale and retail), a position maintained in 2001. In 2011 defence accounted for the highest employment sector.
The tonnages moved at the port increased several-fold between 1976 and 1996:
 
Thousands
of
tonnes
1976
1996
Cargo out
1363
2804
Cargo in
699
4312
The inwards figures showed the growing importance of Townsville as a distribution centre for north Queensland. Townsville remains the third biggest port for imported tonnes in the state, after Brisbane and Gladstone.
The wholesale and retail sector remained strong. There are two drive-in shopping centres at Aitkenvale, two at Hyde Park/Pimlico and one at Currajong. Townsville's Flinders Street shopping strip was made a pedestrian mall in 1979. As suburbia spread eastwards it spilled into Thuringowa Shire (a city since 1986).
SIGHTS AND HERITAGE
Inner Townsville is visually dominated by the Castle Hill reserve, accessed by a road from the suburb North Ward beside which there are several lookouts. The city's three botanical gardens are Queens Gardens, Anderson Park and The Palmetum. A less cultivated area is the Town Common, north of the airport, with a diversity of marshes and woodland, and a high population of water birds. The Strand promenade includes a park in memory of Sister Kenny who conducted a poliomyelitis clinic in Townsville during the 1930s. The showground is in Townsville West and the racecourse, with a grandstand on the Queensland Heritage Register, is at out-of-town Cluden.
Flinders Street follows the north bank of the Ross River and has over a dozen sites listed on the Queensland heritage register. They include Tattersalls Hotel (1868) near Wickham Street; Burns Philp building (1895); the former Bank of New South Wales, later the Australian Meat Employers' Union office (1887); the former Union Bank/ANZ Bank (c1885); the former Queensland National Bank (1872); the former AMP building (1938); State government offices (1928); the Great Northern Hotel (1901) near the railway station; the railway station and workshops (1880-); the former Lion Brewery (1894); and St Theodore's Greek Orthodox Church (1947). The former customs house at the corner of the Strand and Wickham Street is an impressive Romanesque colonnaded building.
| Place | Census Date | Population |
| --- | --- | --- |
| Townsville Municipality | 1871 | 1140 |
|   | 1891 | 8564 |
|   | 1911 | 10,636 |
|   | 1921 | 21,353 |
|   | 1947 | 34,109 |
|   | 1961 | 51,143 |
|   | 1971 | 68,591 |
|   | 1976 | 80,365 |
|   | 1996 | 88,348 |
|   | 2001 | 98,336 |
| Metropolitan Townsville | 1981 | 86,112 |
|   | 1986 | 96,230 |
|   | 1996 | 109,914 |
|   | 2001 | 119,504 |
|   | 2006 | 128,808 |
|   | 2011 | 157,748 |
In 2008 Thuringowa City was amalgamated with Townsville City, the combined authority having an area of 3,733 sq km.
Helga Griffin, Frontier town: a history of early Townsville and Hinterland 1864-1884, North Queensland History Preservation Society, 2014
G. Copeman. et al, 'It was a different town': being some memories of Townsville and district 1942-1945, Thuringowa Central, Thuringowa City Council, 1992
Sonia Davis, et al, Townsville yesterday - in pen and picture, Townsville, North Queensland Newspaper Co., 1978
Dorothy Gibson-Wilde, Gateway to a golden land: Townsville to 1884, Townsville, History Department, James Cook University, 1984
Dorothy Gibson-Wilde, et al., Townsville 1888, Townsville, Department of History [and Politics], James Cook University, 1990
Daryl McIntyre, Townsville at war 1942: life in a garrison city, Townsville, Townsville City, 1992
H.J. Taylor, The history of Townsville harbour, Brisbane, Boolarong, 1980
Townsville 2000: the port that grew, Townsville, North Queensland Newspapers, 2000
John Mathew, Highways and byways: the origin of Townsville street names, Townsville, Townsville Library Service, 2008
Aitkenvale, Alligator Creek (Townsville), Annandale, Belgian Gardens, Cluden, Condon, Cranbrook, Currajong, Douglas, Garbutt, Gulliver, Heatley, Hermit Park, Jensen, Magnetic Island, Mount Louisa, Mundingburra, North Ward, Pallarenda, Pimlico, Railway Estate, Rosslea, South Townsville, Stuart, Thuringowa, Vincent, West End (Townsville) and Wulguru entries