Warwick, a commanding regional town, is on the western side of the Great Dividing Range and near the headwaters of the Condamine River. It has long been characterised by elegant churches and some grand private schools, giving the centre a certain monumentalism. Situated in the southern Darling Downs, it is 140 km south-west of Brisbane.
The first European to sight the Darling Downs was Allan Cunningham, botanist and explorer, in 1827. Acting on Cunningham's discovery, a northern New South Wales pastoralist Patrick Leslie, set off in that direction in 1840 to find fresh grazing lands. Leslie chose a site west of Warwick for his Canning Downs station. Joined by his two brothers, the Leslies became the first permanent European settlers, and others soon followed. Upon the settlement of the district the New South Wales government commissioned Leslie to choose a town site and Lands Commissioner, Christopher Rolleston, named the proposed town site Canningtown. It has been suggested that Leslie and other settlers may have supported the name Warwick, after the fifteenth century figure, Warwick the Kingmaker, in Edward Bulwer Lytton's The Last of the Barons (1843). The name was gazetted in May 1847. A town was laid out by the colonial surveyor James Burnett in 1849 and allotment sales began the next year.
CHURCHES AND SCHOOLS
Warwick was set on the path of being a regional centre with the opening of a slab courthouse in 1849, which several religious groups used for worship for some years. The first National School opened in 1855, while Church of England, Presbyterian and Methodist churches were erected in 1857-58. Warwick was proclaimed a municipality in 1861. In the following year a more substantial courthouse was erected and the Warwick Mail began publication.
Annual Warwick agricultural shows began in 1868, a few years before the railway from Toowoomba reached there. In 1881 the line fed into the Granite belt area around Stanthorpe, putting Warwick in the centre of a fertile agricultural region with improving freight transport. In 1876 the Australian Handbook reported:
Two major municipal projects were completed in the 1880s: a new town hall - with a clock tower added as an afterthought - and a gasworks (1888, 1889), serving a population of about 3000.
The railway was extended westwards to Goondiwindi in 1902. Warwick diversified its agricultural production with the opening of a butter factory in 1903. A technical college opened in 1906, followed by a State high school and a Christian Brothers college (1912), Presbyterian and Church of England girls' secondary colleges (1918) and Scots College (1919). Branch lines from Allora and Maryvale (1911) strengthened Warwick's regional role. During the 1917 debate over conscription for war service, Prime Minister Billy Hughes addressed the citizens of Warwick at the railway station and was struck by two eggs hurled from the crowd. When the local policeman declined to arrest the offender, Hughes decided to establish a Commonwealth police force.
Warwick's other brush with political fame was the election in 1896 of the Catholic Thomas Byrnes, the talented son of poor Irish immigrants, as its local member. Byrnes, a Queensland patriot, became Premier in 1898 and died from pneumonia after only five months in office, aged just 38 years. In death he became a legend, eulogised for his political ideals and cited as proof of triumph over humble origins. His statue is at the intersection outside the Warwick post office.
Warwick was described in the 1903 Australian handbook: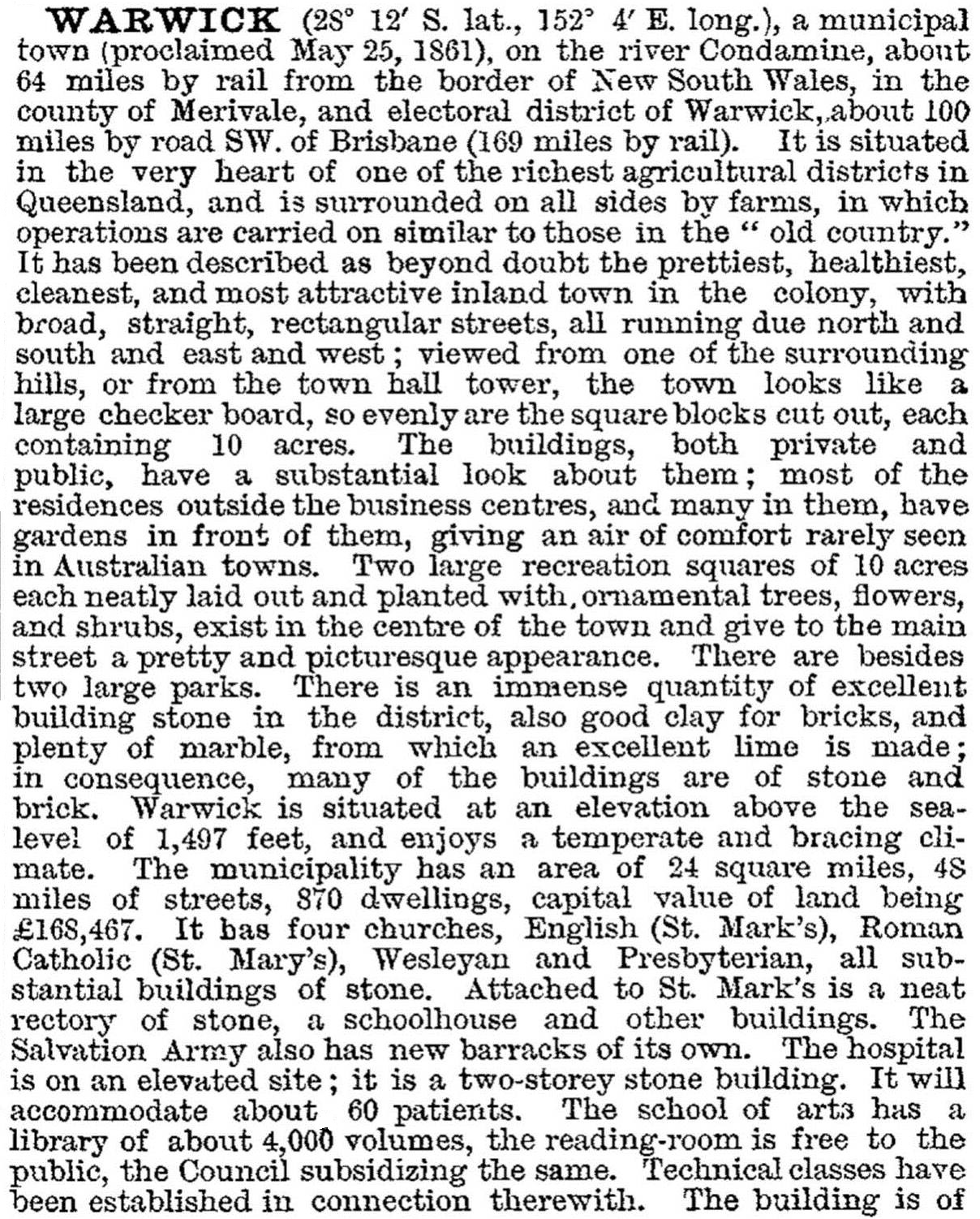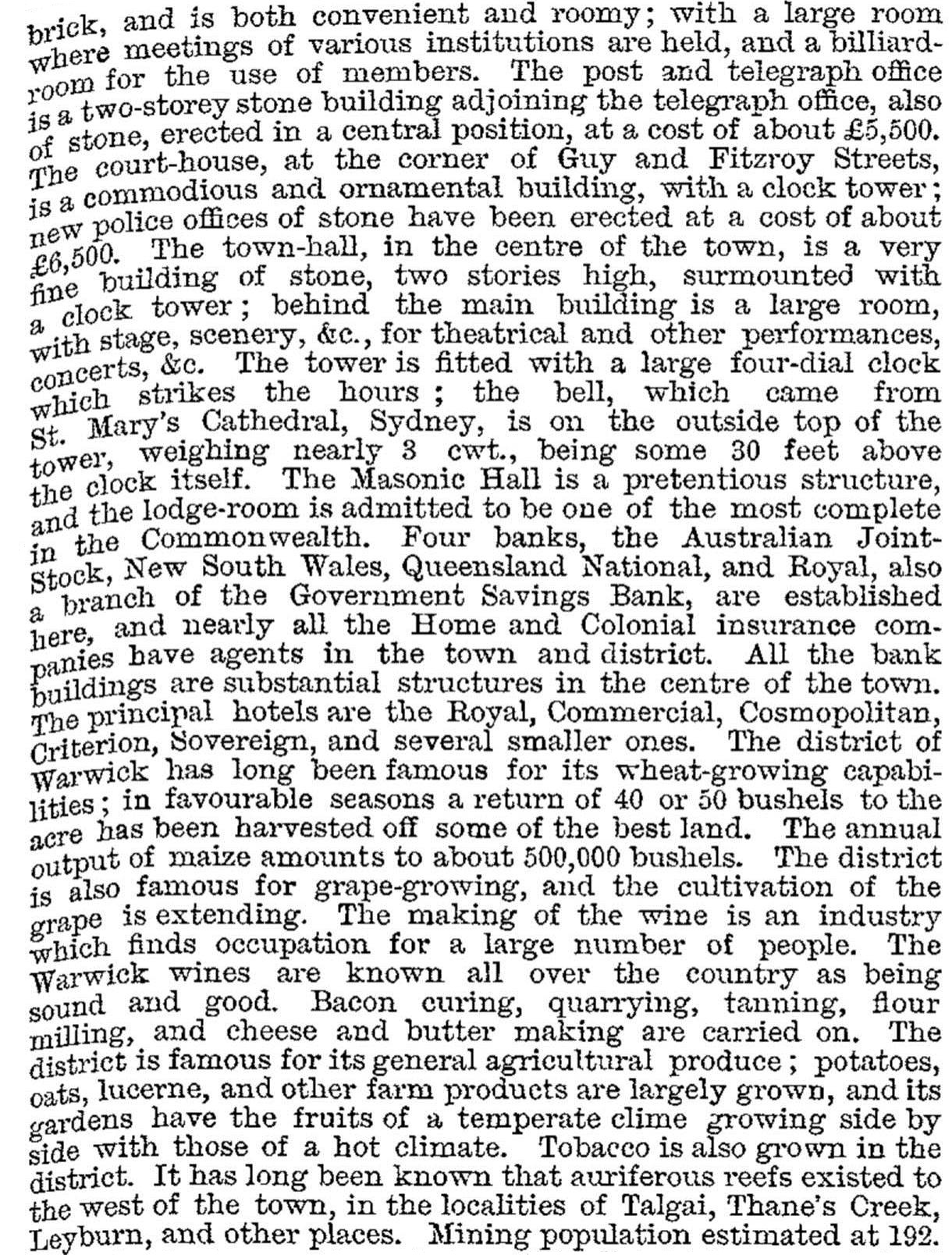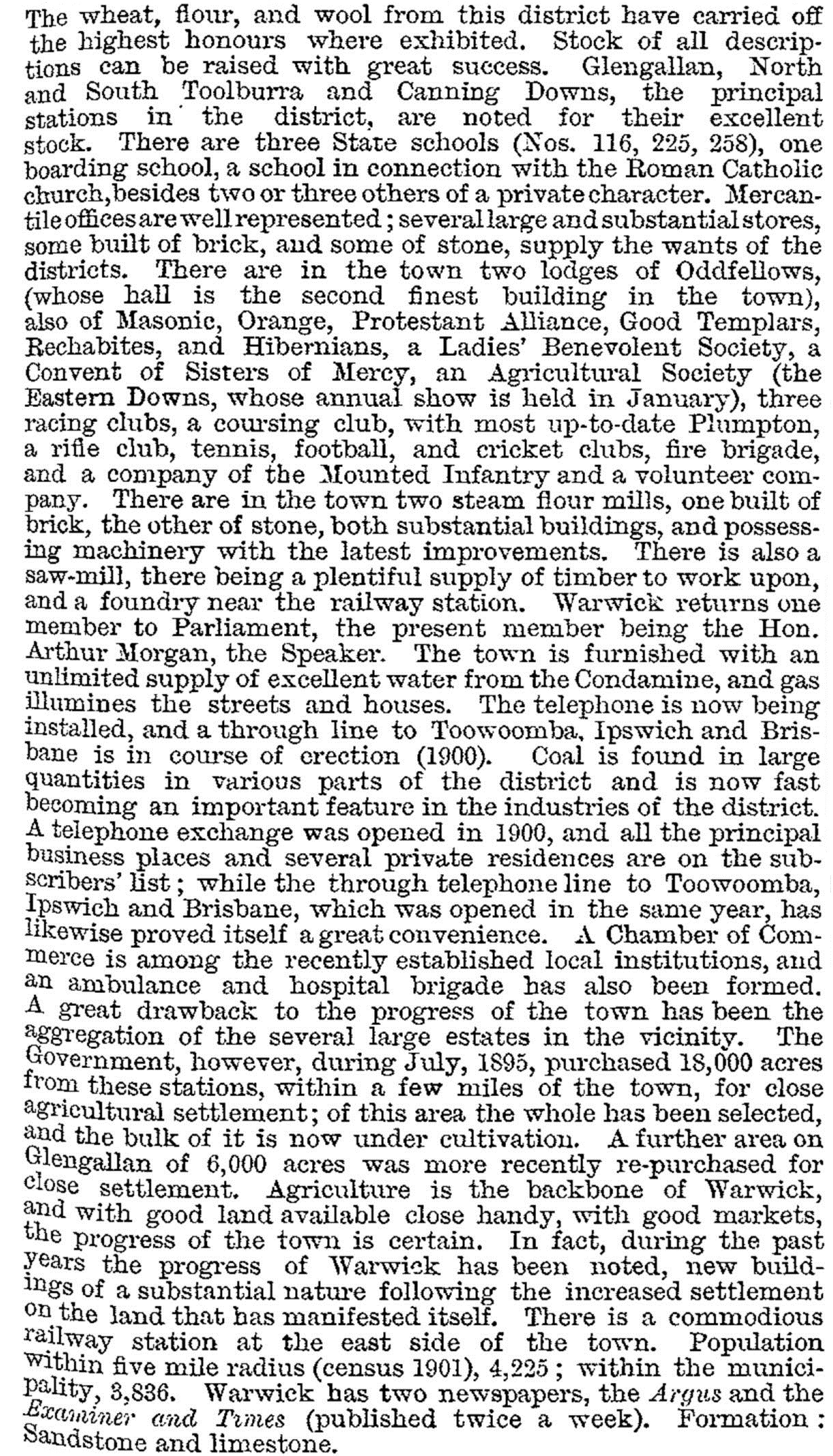 GRAND HERITAGE STRUCTURES
Church, civic and commercial buildings in Warwick were usually built from sandstone, and built to last. The first Catholic St Mary's church (1864) and the second one of nearly cathedral proportions (1926) are both constructed of sandstone. Both are on the Australian heritage register. Other sandstone heritage buildings include the post office and clock tower (1898), the town hall (1888), St Mark's Church of England (1868) and the severely handsome Masonic Hall (1886).
The money to fund these buildings came in part from Warwick's productive hinterland. Warwick was surrounded by three shires, each with local town centres, serviced by railway lines radiating from the Warwick hub. The municipality was raised to city status in 1936. Wheat was important, but so too was cattle grazing. Rough-riding and rodeo competitions were part of the annual shows, and Warwick's Greg Canavan won national championships in the 1940s. The Warwick Rodeo became a premier rural attraction. In 1946 Warwick was described in the Australian Blue Book:

Warwick's population grew by steady, small increments between 1901 and 1947. In the immediate postwar period it increased by 25% and touched 10,000 people in the early 1960s. Agriculture then began to change from intensive to broader acre, causing town population to decline. In the 1980s, as private motor transport improved, smaller surrounding towns felt the 'sponge' effect of the better appointed regional Warwick. The drive-in Rose City Shoppingworld opened in 1984, sited close to the active shopping strips rather than on a cheaper out-of-town position. It has two discount department stores, two supermarkets and about 40 other stores. A Big W distribution centre is out of town. There has been some reduction in the number of Warwick's secondary schools, but State, Catholic and Scots PGC College continue to serve the region. The Catholic convent has been vacated, becoming a heritage-listed bed and breakfast operating as Abbey of the Roses. The alternative Total Education school opened in 1981 and there is a TAFE.
ROSE AND RODEO
Warwick's tourism motto is the Rose and Rodeo City. It has Spring and Autumn flower shows and a combined Rose and Rodeo Festival each October. In the town centre there are the Victoria, Leslie and Slade parks, and a long linear reserve adjoins the winding Condamine River, terminating at the Queens Park and Jackie Howe Park recreation reserves. A showground, racecourse and golf course are on the town's perimeter. Palmerin Street has the heritage-listed Byrnes monument and the Criterion and Langham Hotels. Two blocks west in Guy Street there are the heritage-listed Masonic hall, Uniting Church (1869) and Warwick Central State School (1875). On the eastern side of the town centre there is the railway station complex with a goods shed, Railways Institute building, saleyards and locomotive turntable.
In 1994 Warwick city was amalgamated with the Shires of Allora, Glengallan and Rosenthal and constituted as the Shire of Warwick (4425 sq km). The Shire's employment profile in 2001 had as its major components: wholesale and retail 23%, agriculture and forestry 15.4%, manufacturing 11.8% and education 8.7%. Accommodation and hospitality had 4%. Several manufacturing concerns are linked with value-adding to agricultural products, and there are related transport and research bodies. Further municipal amalgamation occurred in 2008 when Stanthorpe and Warwick Shires were amalgamated to form Southern Downs Regional Council.
| Census Date | Population |
| --- | --- |
| 1861 | 1180 |
| 1871 | 2473 |
| 1901 | 3536 |
| 1911 | 5248 |
| 1947 | 7129 |
| 1954 | 9151 |
| 1981 | 8853 |
| 1996 | 10,947 |
| 2006 | 12,562 |
| 2011 | 12,357 |
Thomas Hall, The early history of Warwick district and pioneers of the Darling Downs, reprinted Toowoomba, Vintage 1988 (also available Archive CD Books Australia, Modbury, SA, 2007.
Joseph McKey, The Warwick story, Warwick, J. McKey, 1972
Allan Cunningham, Sketchbook of historical and sandstone buildings: a souvenir of the celebration of the 150th anniversary of the discovery of the Darling Downs, Warwick, Warwick and District Tourist Association, 1977