Winton Shire, an area of 53,935 sq km, is generally 750 km west of Rockhampton. Consisting mainly of lightly timbered Mitchell grass plain, it drains south-westwards by seasonal watercourses and channels into the Diamantina system.
Explored by three expeditions after the Burke and Wills crossing in 1861, pastoralists entered the Winton district in the mid to late 1860s. The Winton township was gazetted in 1879, and the Winton local-government division was proclaimed in 1886. At least two pastoral properties are historically important: at Dagworth, 100 km north west of Winton, the poet Andrew Barton 'Banjo' Paterson first heard the tune 'Craiglea' for which he wrote the words of 'Waltzing Matilda'; and Elderslie, west of Winton, has a rare vernacular homestead (c1882) which is listed on the Australian heritage register.
Country horse races drew pastoralists and employees to Winton township as early as 1879, and a succession of racing and clubs kept the sport going. (Most of their records were lost when the North Gregory Hotel was burnt down). Clubs went into recess when the district fell under drought, but the Matilda Country Handicap is an annual event.
In 1894 opal mining began at a site 100 km south-west of Winton, exploiting a discovery made seven years before. Named Opalton, the site had up to 600 people in a few years. In a few more years it had only 80 miners, and mining was drawing to a close by 1904.
Opalton was described in the 1903 Australian handbook:

Opalton was a remote locality. Pastoral interests instead directed their attention to the railway routes which reached Winton from Hughenden in 1899 (the Townsville line) and from Longreach in 1928 (the Rockhampton line). A line westwards from Winton to Springvale was approved by Parliament in 1910 as part of the Great Western Railway, but it was never built. Outback airways were solving the distance problem for human travel, but drought could inflict ravages on stock if they were not moved quickly enough.
The shire's population reached 2500 in 1911, rose during the 1920s, fell back during the bad seasons of the 1930s and was at 2500 in the late 1940s. In 1946 Winton Shire was described in the Australian Blue Book: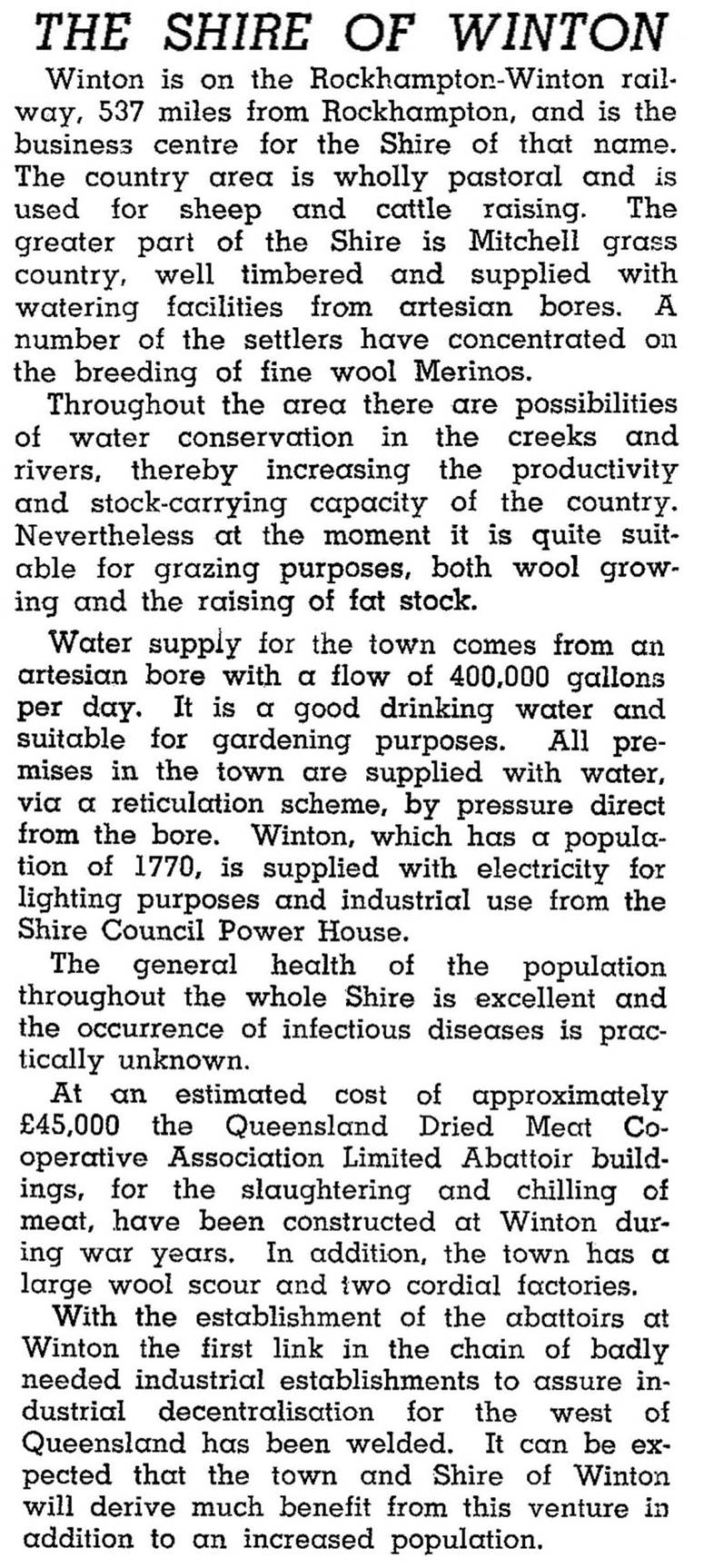 Winton is on the Landsborough Highway, and the town is active in tourist promotion. The Lark Quarry Dinosaur Trackways visitor centre opened in 2002, 110 km from Winton and is jointly managed by Winton Shire Council and the Queensland Parks and Wildlife Service to protect over 3300 fossilised dinosaur footprints.
The pastoral industry had 133,000 meat cattle, 860,000 sheep and 119,000 lambs in Winton Shire in 1993. Despite the move to tourism, 27.2 of the shire's employment was in agriculture (sheep, beef cattle and grain framing) in 2011.
The shire's census populations have been:
| Census Date | Population |
| --- | --- |
| 1911 | 2554 |
| 1921 | 3278 |
| 1954 | 2532 |
| 1961 | 3043 |
| 1976 | 1938 |
| 2001 | *1956 |
| 2006 | 1380 |
| 2011 | 1336 |
*
Including visitors.
Vincent Corbin, ed, Winton: one hundred years of settlement 1875-1975, Winton, Winton Shire Council, 1975
Len Cram, A journey with colour, Lightning Ridge, NSW, L. Cram, 1998-2006
Peter and Sheila Forrest, Vision splendid: a history of the Winton district, Western Queensland, Winton, Winton and District Historical Society, 2005