Clifton Shire, an area of 867 sq km and generally 40 km south of Toowoomba, was amalgamated with Toowoomba City and Cambooya and Jondaryan Shires in 2008 to form Toowoomba Regional Council. Beginning in 1879 as the Clifton local government division, it was named after the Clifton pastoral property (1843).
Pastoral settlement began in 1841 and agricultural selections were put up for occupation in the 1860s, coinciding with the opening of the railway southwards though the district from Toowoomba. Closer-settlement, however, was frustrated by pastoralists acquiring plum small holdings, and it did not make significant strides until the 1870s. When closer-settlement took hold, the Clifton township grew and farms did well with wheat and, later, dairying on the alluvial soils and open flood plain black soils. Clifton and Nobby had grain storages and dairy factories; only the silos at Clifton remain, but used for sorghum, barley, sunflower and other grains.
By 1911 the last of the large pastoral estates was subdivided and closer-settlement peaked. The northern part of Clifton Shire was severed, becoming Cambooya Shire headquartered at Greenmount. Clifton Shire stayed headquartered at its shire offices at Clifton, where it had been since moving there from temporary quarters at Allora in 1891.
Whilst population was concentrated along the Nobby-Clifton rail corridor there was a host of outlying localities, each with a school and occasionally a hall. Several have faded, but primary schools have continued at Back Plains (1879) and Ryeford (1937) (west Clifton) and Pilton (1913) to the north-east.
With a population of about 2700 Clifton Shire was described in 1946 in the Australian Blue Book: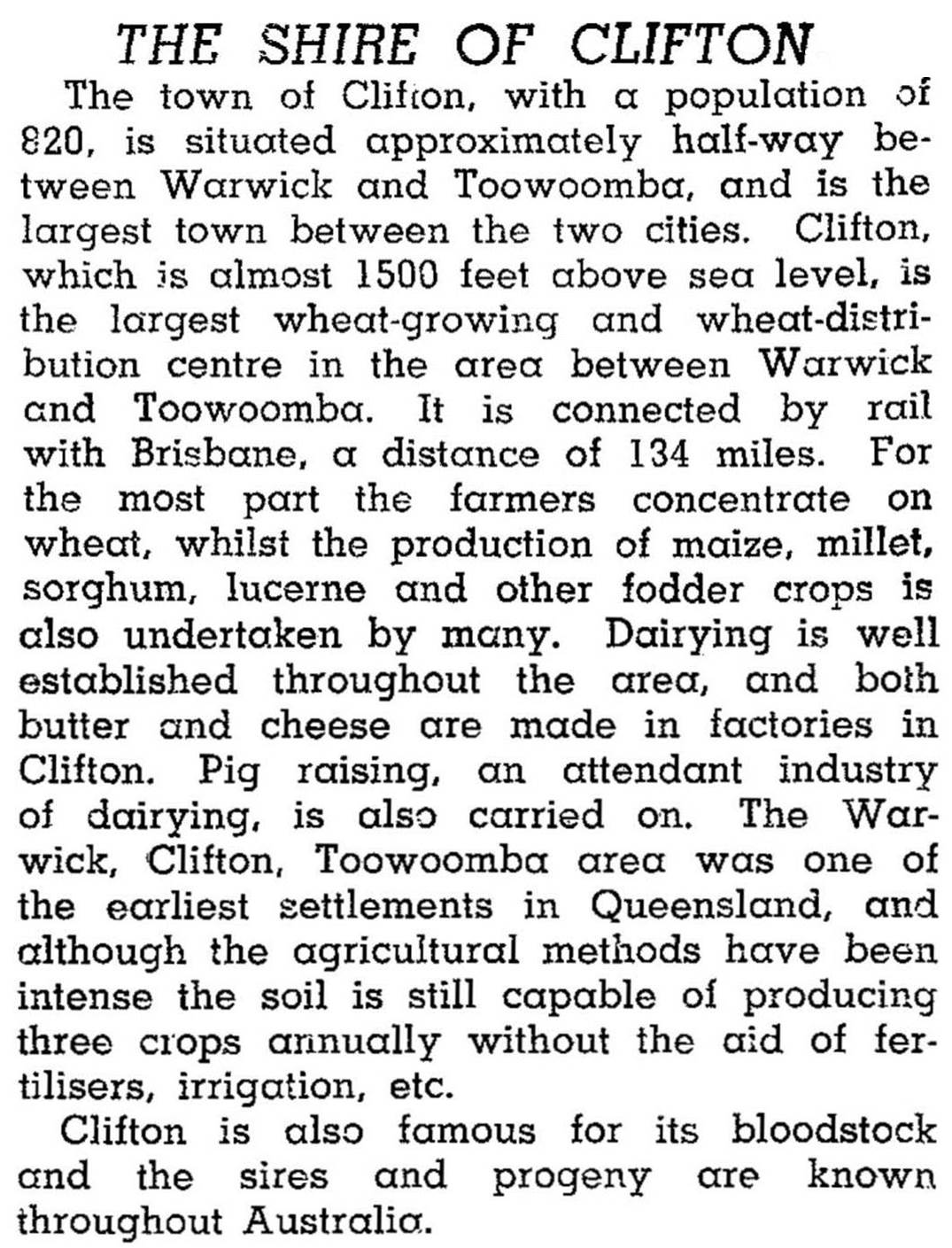 Clifton Shire was predominantly agricultural, with 41% of its workforce in 2001 engaged in agriculture and forestry. The next largest employment sectors were wholesale and retail (11.9%) and education (9.0%). Agriculture was diverse: in 1993 there were over 15,800 meat cattle, 3700 dairy cattle, 10,000 sheep and lambs, 20,700 pigs, 18,240 ha under cereals and 8750 ha under other field crops. Peanuts are an important crop and there is a processing factory in Clifton. Some farms were probably marginal, as the shire reported a median weekly income of $272 per person in the 2001 census.
A plaque at the Pilton Station cemetery was installed and unveiled in 2004 to remember Clifton residents buried at the cemetery from 1876 to 1907.
Attempts at council de-amalgamation were unsuccessful in 2012.
The shire's census populations have been:
| Census Date | Population |
| --- | --- |
| 1911 | 7099 |
| 1921 | *3176 |
| 1954 | 2542 |
| 1981 | 2188 |
| 2001 | 2406 |
| 2006 | 2613 |
*
After severance of Cambooya.
Beverley J. Irwin, ed, A million bushels of wheat, Clifton, Clifton Shire Council, 1989
P.M. Schroder, Clifton shire handbook, Queensland Department of Primary Industries, 1972
Clifton and Nobby entries