Crows Nest Shire, an area of 1631 sq km on the central Darling Downs and eastern ranges, is immediately north of Toowoomba City and extended nearly to Blackbutt. The shire's administrative seat was the town of the same name (see separate entry). In 2008 it was amalgamated with Toowoomba City and six other shires to form Toowoomba Regional Council.
Crows Nest Shire was formed in 1913 by severance from Highfields Shire (the two were reunited in 1949, the latter's name discarded). Settlement of the Crows Nest district began with timber harvesting. A large pastoral run was taken up in 1849, however this failed and was opened for closer-settlement, farm selections following in the 1870s. Railway lines from Ipswich to Toowoomba via Murphy's Creek and Highfields, and to Crows Nest via Carbarlah, were completed by the mid-1880s. Intensively farmed with dairying and crops, no dominant township emerged in the shire until the early 1900s, when Crows Nest's population crested 1000. The shire was described in the 1946 Australian Blue Book (just prior to the amalgamation with Highfields) as follows: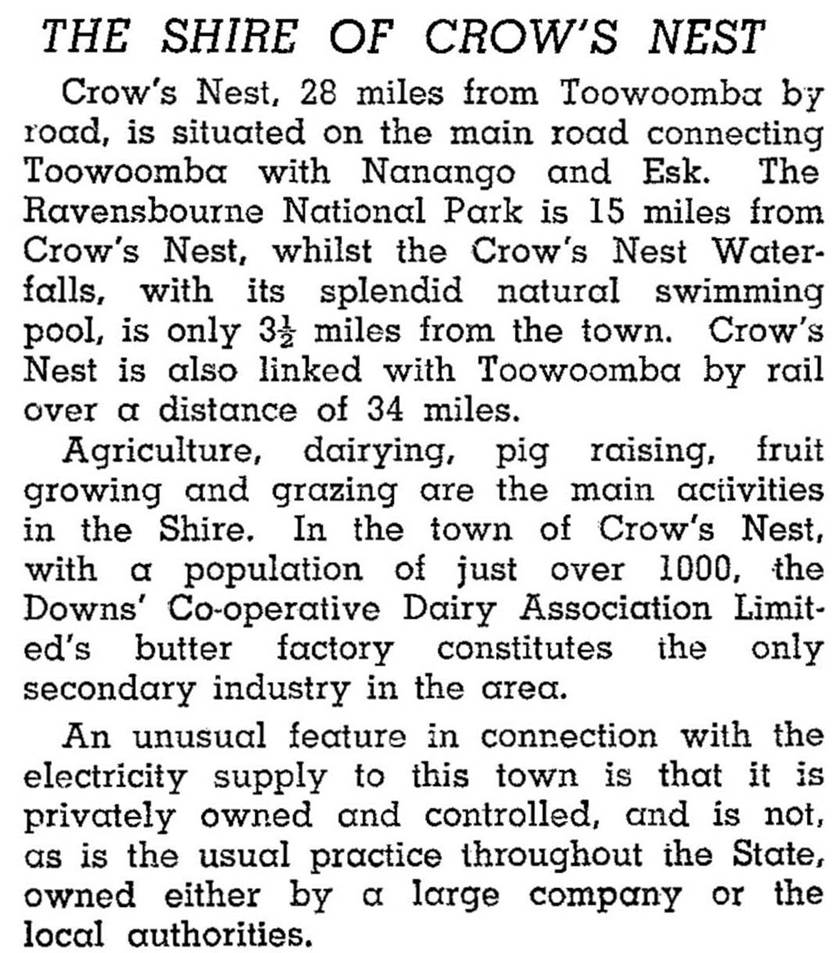 Dairying has declined in importance, but a diversity of farming pursuits has been sustained. In 1993 the main agricultural activities were meat cattle (35,000 head), pigs (13,000) and dairy cattle (8300). Urbanisation has featured strongly in the development of those parts of the shire close to Toowoomba: While Crows Nest Township's population increased from 1037 in 1981 to 1324 in 2001, Highfields, 12 km from central Toowoomba, exploded from 789 in 1986 to 3649 in 2001.
Crows Nest Shire's census populations were:
| Census Date | Population |
| --- | --- |
| 1921 | 2671 |
| 1954 | 3733 |
| 1971 | 3111 |
| 1981 | 4125 |
| 1991 | 6644 |
| 2001 | 9908 |
| 2006 | 12,643 |
From tall timbers: a folk history of Crows Nest Shire 1988, Crows Nest: Crows Nest & District Tourist & Progress Association, 1988
Cabarlah, Crows Nest, Highfields and Meringandan entries