Drayton, formerly a rural town and now an outer suburb of Toowoomba, is 6 km south-west of Toowoomba's city centre.
Originally known as The Springs, Drayton began as a camping place near the intersection of the Eton Vale, Westbrook and Gowrie pastoral stations in about 1842. A European settler at The Springs, Thomas Alford, named his house, store and post office Drayton after his birthplace in Somerset, the name ultimately being applied to the emergent township.
Drayton was the district's principal settlement until the Drayton Swamp, 6 km to the north-east, was found to be the preferred location because of its moister growing conditions. Alford moved to the Swamp and built a new house which he named Toowoomba. Drayton thereafter was overtaken by Toowoomba which, with unexpected stubbornness, plumped for separate municipal status rather than as part of Drayton municipality (1862).
Almost from its beginning Drayton's landmark was the Bulls Head Inn (1847, substantially rebuilt 1859), a structure with attics more suited to temperate climates and quite unlike typical Queenslander hotels. Drayton's 'human landmark' was Arthur Hoey Davis, born in Darling Street in 1868. Writing as Steele Rudd, Davis described in numerous yarns and novels the life of Downs selectors, based partly on his life at a Greenmount selection taken up by his ex-blacksmith father in 1870. By then, the railway out of Toowoomba bypassed the built-up part of Drayton, and municipal government foundered on the non-collection of rates. Ultimately Drayton shire was proclaimed in 1887.
Drayton had a National School (1851) and a Church of England (1859), and a description in the Australian handbook (1884) also mentioned Catholic and Wesleyan churches and two hotels, the Criterion and the Downs. The 1903 Australian handbook stated that Drayton 'may now almost be considered a suburb' of Toowoomba, its surrounds dotted with farms and homesteads: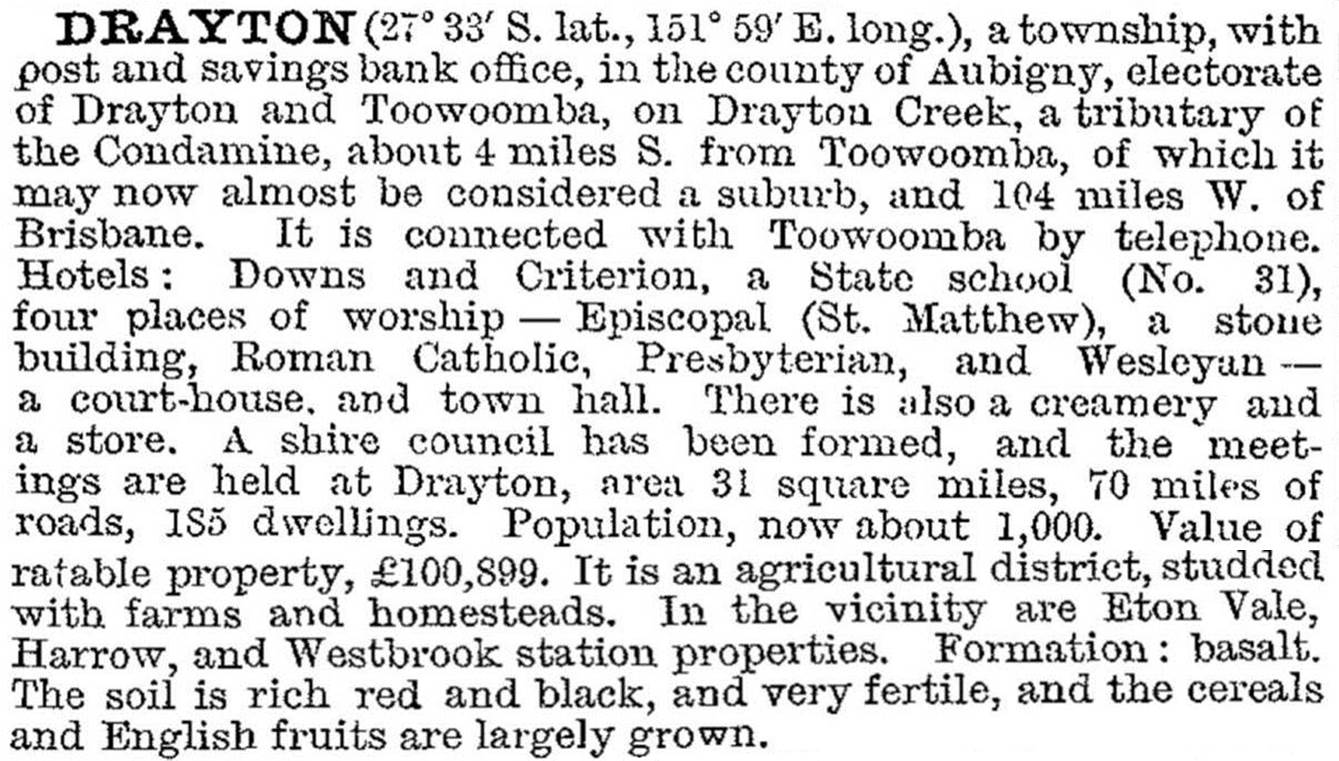 Drayton Shire was described in the 1946 Australian Blue Book: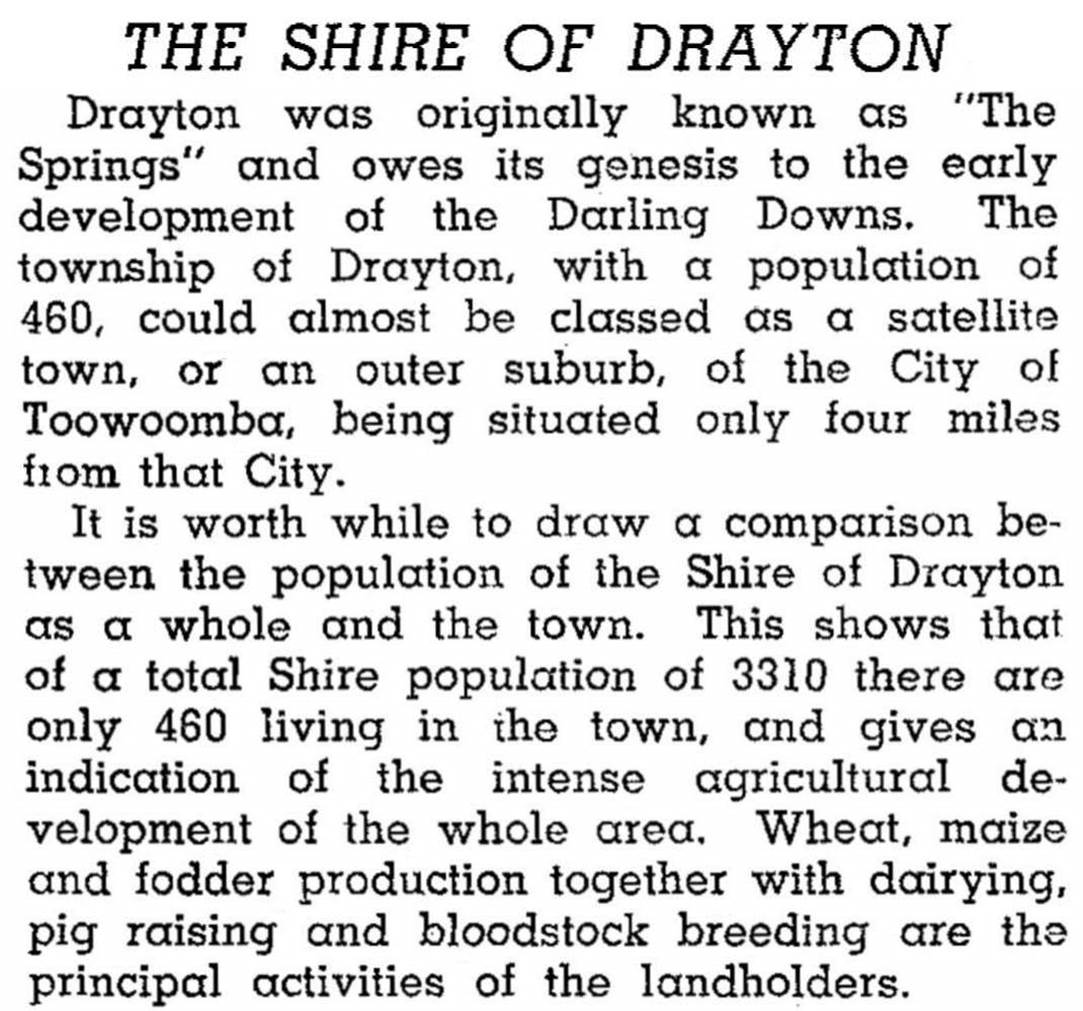 In 1949 Drayton Shire was abolished and absorbed by Cambooya and Crows Nest Shires.
Drayton has local shops, a sporting complex, two hotels, two churches, a bowling club, a primary school and a public hall. The Bulls Head Inn is administered by the National Trust. It is listed on the Register of the National Estate, along with the Anglican Church (1887). 
A team of archaeologists from the University of Southern Queensland, along with the National Trust, excavated land around the Royal Bulls Head Inn at Drayton in 2014.
Drayton's census populations have been:
|  area | Census Date | Population |
| --- | --- | --- |
| Drayton | 1861 | 321 |
|   | 1868 | 807 |
|   | 1881 | 697 |
|   | 1911 | 731 |
|   | 1921 | 470 |
|   | 1947 | 443 |
|   | 2006 | 1651 |
|   | 2011 | 1609 |
| Drayton Shire | 1891 | 983 |
|   | 1911 | 1260 |
|   | 1921 | 1749 |
|   | 1947 | 1925 |
Drayton State School 150 years: 1851-2001, Drayton State School, 2001
Drayton and Toowoomba cemetery: our backyard revisited, Toowoomba and Darling Downs Family History Society, 2013