Laidley Shire, an area of 701 sq km, and generally 65 km west of central Brisbane, was amalgamated with Gatton Shire in 2008 to form Lockyer Valley Regional Council. Shaped like a slender bunch of grapes, the shire was about 50 km from north to south. The Lockyer Creek crossed the northern part, and the north-south direction is defined by the Laidley Creek and Laidley Valley.
The name of the shire came from its main town (see entry for Laidley) and the first local government organisation was the Tarampa division, operating from the Lowood area. The Laidley division was formed in 1888 by severance from Tarampa. Laidley township was a separate borough from 1902 until 1916, when it was re-united with the shire.
Laidley and Lockyer Valleys were of above average fertility, providing suitable land for growing grains and vegetables and favourable dairy pastures. Several towns of 200 or 300 people developed. The largest was Forest Hill, on the railway line to Toowoomba, which serviced surrounding farms and retains several examples of early built heritage including the Forest Hill and Lockyer Hotels. The Laidley township is also on the railway (1866), and a branch line established in 1911 ran from the town down the Laidley Valley to Mulgowie until 1955.
Two other towns, both on the Warrego Highway, have strong Lutheran roots. A Lutheran church was built in Hatton Vale in 1881. Another was erected in Plainland, north of Laidley, in 1884, which is today the site of the Faith Lutheran College (1999). There have been at least ten secular primary schools in the shire (excluding Laidley), eight of which were still open in 2006: Blenheim (1979-), Forest Hill (1893-), Glenore Grove (1906-), Grandchester (1878-), Hatton Vale (1881-), Kentville (1907), Lockrose (1905-), Mt Berryman (1886-1977), Mulgowie (1877-1997) and Thornton (1881-).
During the years up to World War II, the shire's population was about 5000, of whom 3500 were on the land or in the small towns and villages. The shire was quite intensively farmed, and in 1946 the Australian Blue Book described it as follows: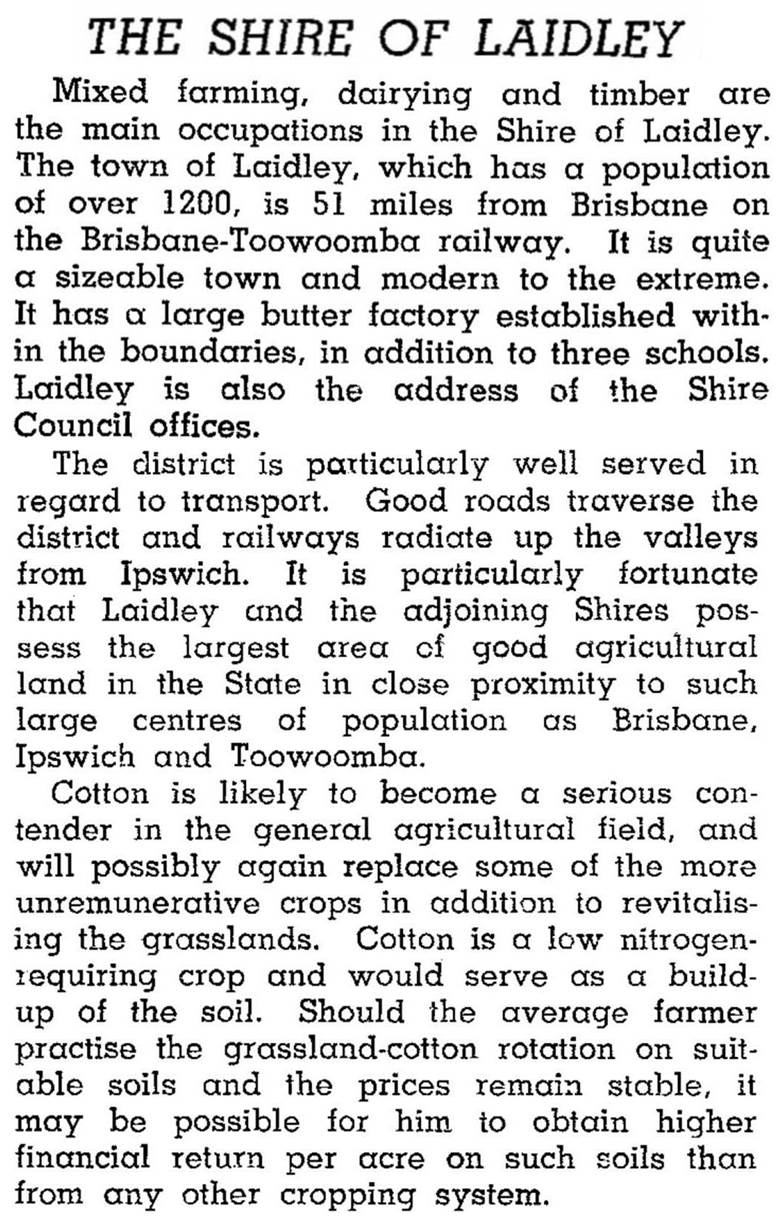 In the decades following World War II the Lockyer and Laidley valleys replaced the Redland market gardens as Brisbane's 'salad bowls', as the latter were replaced by housing development. Agriculture in the valleys was boosted by irrigation, although prolonged dry weather depleted aquifers on which irrigation partly depended. The Laidley Shire was itself also subject to urbanisation in this period. Within commuting distance of Toowoomba and Ipswich, the shire's population nearly doubled from 1986 to 2001, reaching 12,600.
Agriculture is important, but second to wholesale and retail in 2001 as a source of employment (although shop assistants etc no doubt commuted to worksites outside the shire). In order of size as a proportion of total employment of the shire's residents, the leading sectors were: wholesale and retail (19%), agriculture (16%), manufacturing (14%), education (8%), health and community services (8%), construction (6%), transport and storage (6%), and accommodation and cafes (3%).
The agriculture sector comprised 228 farms on 69,000 ha in 1993. There were 10,500 beef cattle, 2600 dairy cattle and 1640 pigs. Croplands comprised 1232 ha of cereals, 1175 ha of legumes and 320 ha of other field crops.
Laidley Shire's censes populations were:
| Census Date | Population |
| --- | --- |
| 1911 | 13348 |
| 1921 | 24854 |
| 1961 | 4973 |
| 1981 | 5380 |
| 1991 | 8463 |
| 1996 | 12,116 |
| 2001 | 12,581 |
| 2006 | 14,481 |
1
Excluding town.
2
Including town.
Blenheim, Forest Hill, Glenore Grove, Hatton Vale, Laidley, Laidley Localities and Plainland entries