Mount Perry, formerly a copper mining and smelting town, is 80 km south-west of Bundaberg. The mountain is the southern-most peak in the Hogback Range, five km east of the town.
The mountain was probably observed by the colonial surveyor, James Burnett, in 1847 and named after the Deputy Surveyor-General, Samuel Perry. In 1851 the Mount Perry pastoral run was taken up by its first proprietor, Robert Wilkins.
In 1862, Henry Dingle (described as squatting in the neighbourhood) reputedly noted evidence of copper ore. In 1869 Dingle came upon evidence of rich ore and with a better understanding of the profit from minerals (Clermont, Cloncurry and Peak Downs copper had been discovered a few years before), precipitated a rush of prospectors. Within a year a Sydney entrepreneur, Ebenezer Vickery, invested in six shafts and four tunnels, and by the end of 1871 had taken out 1500 tons of ore. Several other companies and individual prospectors worked their own mines. Among the holders of mineral selections were the partnership of G.R. Fife, A. Heusmann and J.W. Barnett who, taking advantage of the fast growth of population, subdivided their holding for building sites. It evolved as the town of Fife-Barnett. By mid-1871 it was reported that there were five hotels erected or in the course of being built, a blacksmith and several stores. A newspaper, the Mount Perry Mail, began publication in 1872.
A provisional school was opened in 1871 and, after considerable local agitation, replaced by a National School in 1874 with an enrolment of 150 children. Wesleyan Methodism and Cornish miners started church services in 1872, and both Catholics and Methodists built churches within the year. Overlooking the town's numerous buildings were the smelters. In 1876 the town, known as Fyfe-Barnett, was described in the Australian Handbook:
The town's prosperity ebbed and flowed with world copper prices. The smelters were closed in 1877 and reopened in 1884, coinciding with the completion of the railway to Bundaberg. By then, the Perry local government division had been created. The council met in a variety of venues - auction room, Oddfellows hall and court house - and a shire office and meeting rooms were built in 1959. There had been a plethora of friendly societies and kindred groups by the time of the town's second boom period that began in the early 1900s, and the Masonic Temple dates from that time. It is a symmetrical timber structure with Tuscan columns and a wide pediment, and is on the Australian heritage register. Mount Perry was again described in 1903 in the Australian handbook: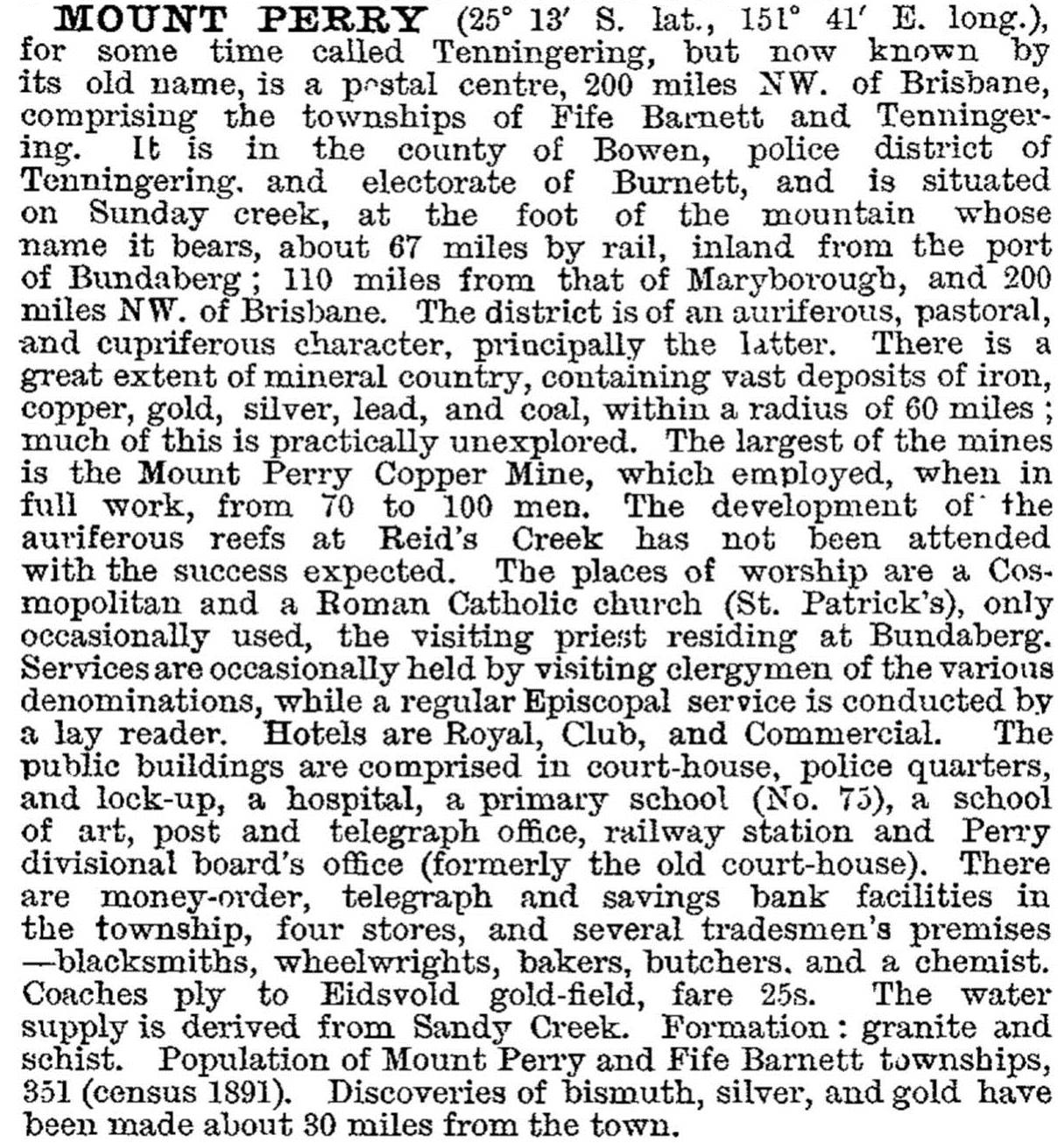 The smelters closed in 1915, and Mount Perry adjusted to becoming a pastoral town. The railway connection ended in 1960 and the court house was converted to a public hall the following year. The hospital had been without a resident doctor since the mid-1940s and was designated a cottage hospital in the 1970s.
Perry Shire, with an area of 2359 sq km, extended from the Biggenden district to the Burnett Ranges (the Burnett River's headwaters), near Monto. In 1911, when there were 1630 people in Mount Perry, 385 were in the rest of the shire. About the same number was in the rest of the shire in 1946 when it was described in the Australian Blue Book: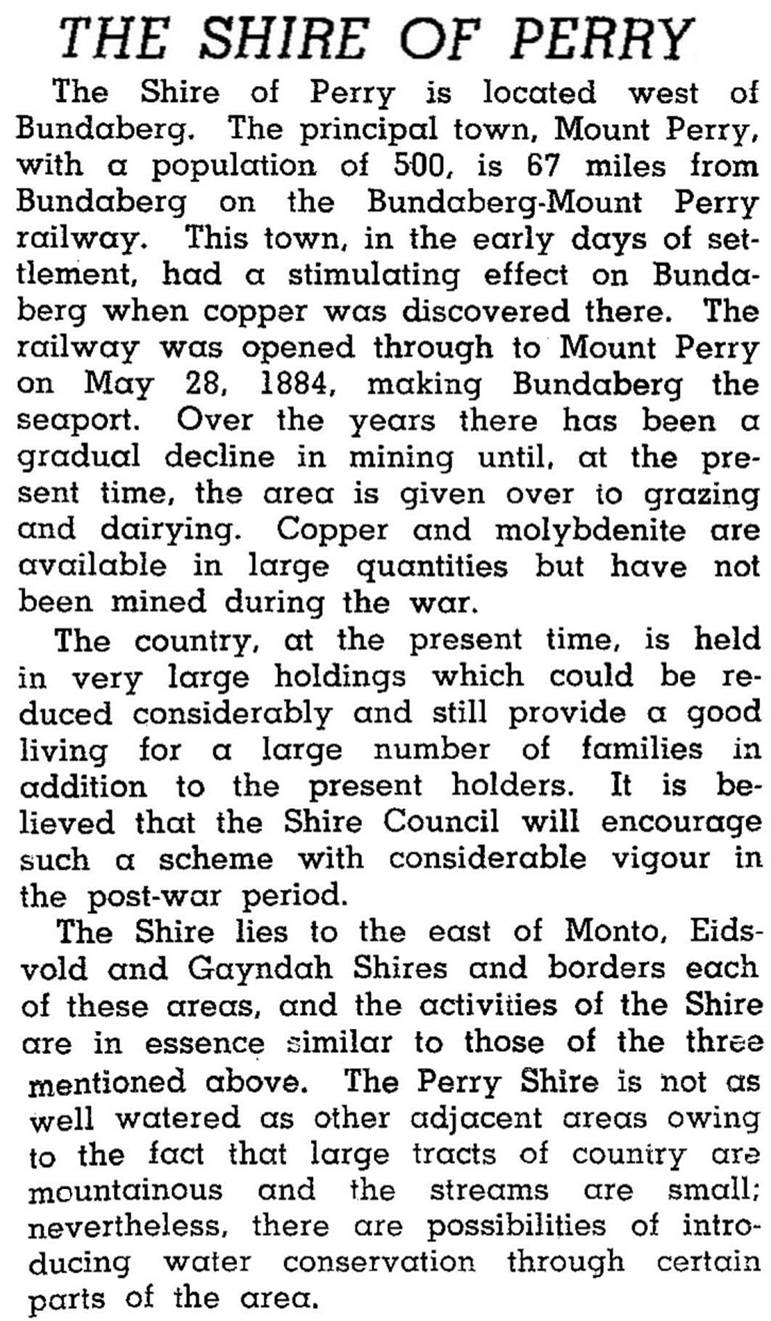 Mount Perry was the sole town in the shire, which was amalgamated with five other shires in 2008 to form North Burnett Regional Council. Mount Perry has a general store, a health centre, a hotel, golf club, a racecourse, a showground and primary school. There are also a community centre (1996) and a cultural centre (1984) in the former hospital. Mount Perry's most famous daughter was Florence Broadhurst (1899-1977), musical performer and wallpaper designer. Her Sydney studio drew international customers in the 1960s-70s. The town's Catholic church and Masonic lodge (both 1904) are listed on the Queensland heritage register. The former shire offices include a library and an art gallery and there is an annual show and race meetings. Mining has recommenced with the Mount Rawdon gold mine. Agriculture in the shire was mainly beef cattle, with 32,000 head in 1993. The census populations have been:
|  area | Census Date | Population |
| --- | --- | --- |
| Mount Perry township | 1891 | 351 |
|   | 1911 | 1630 |
|   | 1947 | 295 |
|   | 1966 | 261 |
|   | 2006 | 169 |
|   | 2011 | 480 |
| Perry Shire | 1911 | 2015 |
|   | 1947 | 628 |
|   | 1966 | 374 |
|   | 2001 | 416 |
|   | 2006 | 431 |
Mervyn Royle, Perry's past: a centenary history of Perry Shire, Mount Perry, Perry Shire Council, 1980, 1998
Diana J. Beal, Perry Shire handbook, Brisbane, Queensland Department of Primary Industries, 1971