Nebo Shire, an area of 10,035 sq km and generally 100 km south-west of Mackay, was amalgamated with Belyando and Broadsound Shires in 2008 to form Isaac Regional Council.
The area was explored by Leichhardt in 1845 who followed the Isaac River in the west of the shire, but it was William Landsborough in 1856 who named Nebo Creek and a prominent nearby mountain, Fort Cooper. The inspiration for the name Nebo is obscure: Mount Nebo, south of Brisbane is unlikely as there is little topographical resemblance between the two areas, and the biblical Nebo is not a very suggestive source.
In the early 1860s pastoralists moved inland from Rockhampton, and a stock route crossed the Nebo Creek. A hotel was opened at the creek crossing in 1862, and in 1865 a town was surveyed. Named Fort Cooper, the place was also known as Nebo and the two names co-existed until 1923 when Nebo was officially settled on.
The Nebo district was settled as cattle-grazing country and that was the sole preferred industry for over 100 years. Most of the shire is hilly to undulating, often with shallow soils except along river flats and other limited areas. Much of the medium quality land was brigalow country.
In 1881, at Mount Britton, 30 km north of Nebo, a minor gold rush occurred. Hotels were quickly built and a public hall opened, and there was an estimated population of 1500 in 1883. It was enough to provoke the creation of the Nebo, local-government division which was severed from the St Lawrence (Broadsound) division in that year. Mining petered out by 1890, and Nebo regained its position as the leading township. Nebo has never had over 250 people, but as a district centre it had the standard range of facilities and institutions, outlined in the Australian handbook in 1903: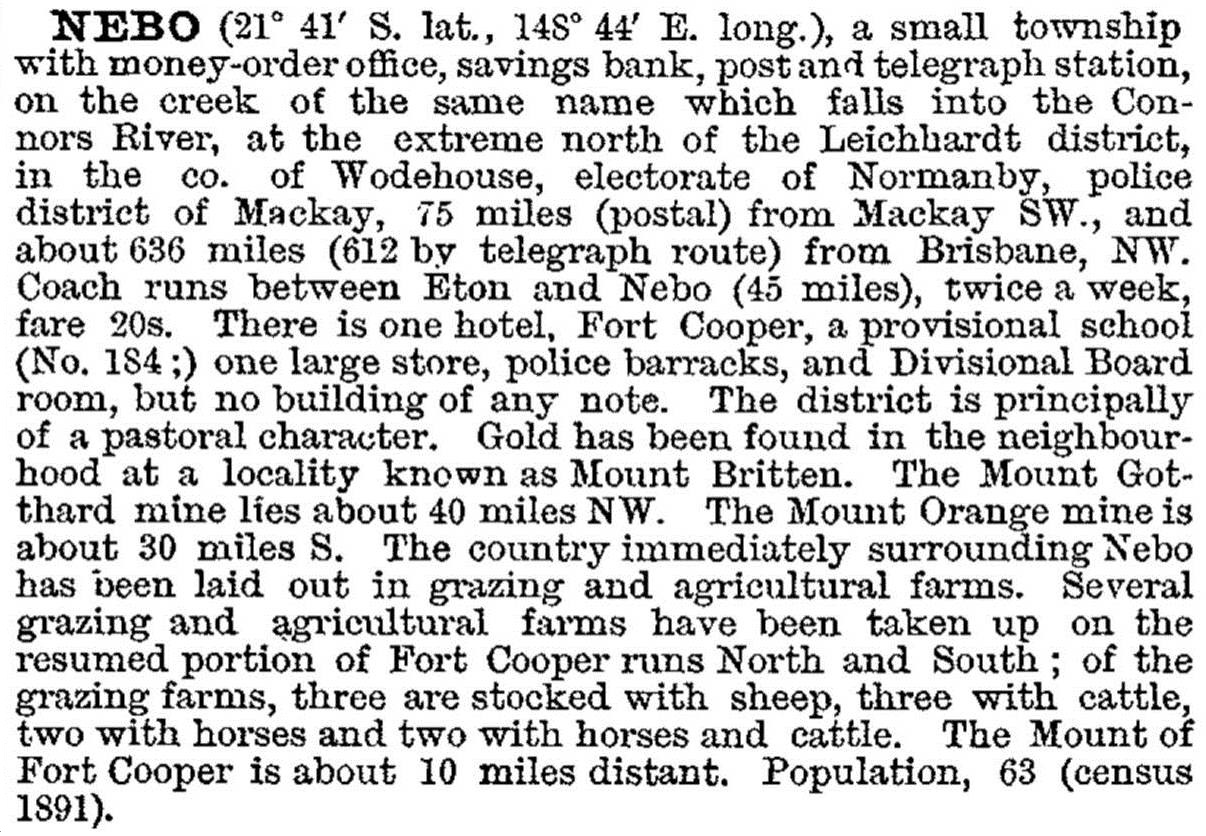 Nebo Shire was described in the 1946 Australian Blue Book: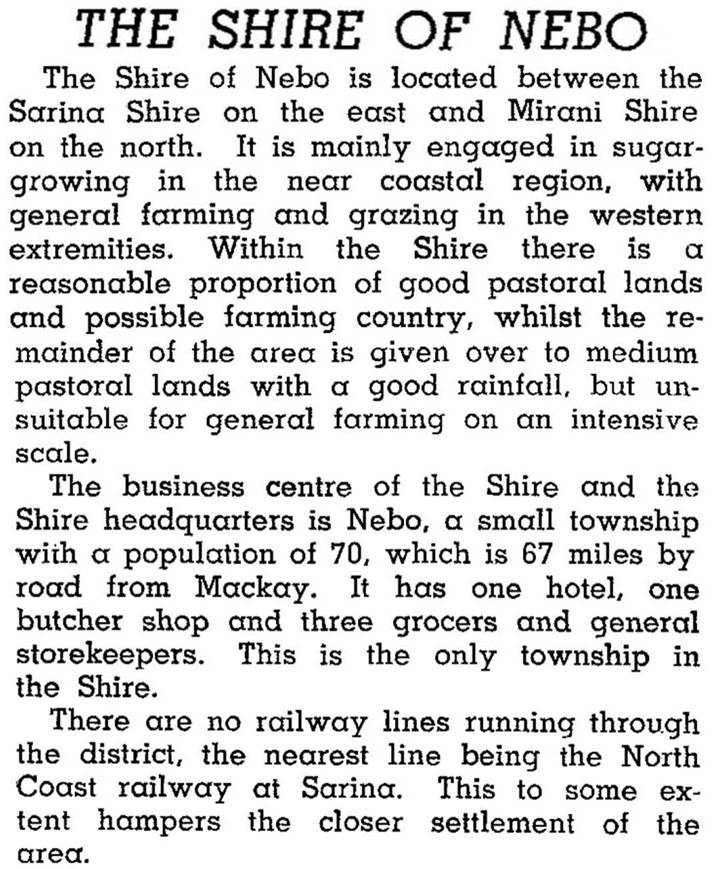 In the late 1960s Utah Development planned the building of a new town for its workforce at the Goonyella and Peak Downs open cut coal mines. Rather than have the town in its shire, Nebo did a land swap with neighbouring Belyando shire. Utah's Moranbah township in Belyando had 4000 people in five years. In the late 1970 Mount Isa mines proposed a new town for its Newlands coal mine and the agreed location this time was in Nebo shire, at Glenden. Within five years Glenden doubled the shire's population.
During the 1970s the development of the Bowen Basin coal fields caused the opening or railway lines to the Mackay harbour. The Peak Downs line (1972) and the Blair Athol line (1983) intersect at Coppabella, a railway town in the southwest of the shire.
In 1993 Nebo shire had nearly 150,000 beef cattle, 980 dairy cattle and about 2000 ha under cereals and fodder crops. In 2001 the leading employment sectors in the shire were mining (38.4% of total employment), agriculture (13.8%) and transport and storage (8.5%). Census populations were:
| Census Date | Population |
| --- | --- |
| 1911 | 444 |
| 1947 | 533 |
| 1971 | 777 |
| 1981 | 914 |
| 1986 | 2352 |
| 2001 | 2529 |
| 2006 | 2522 |
George Mayes, Behold Nebo: a history of the Nebo Shire, Glenden, R and R Publications, 1991   
M.L. Everett, Nebo Shire handbook, Brisbane, Queensland Department of Primary Industries, 1971