Toowoomba is Queensland's largest inland city. It occupies a commanding position atop the western slopes of the Great Dividing Range, 700 metres above sea level. As the regional capital for the Darling Downs, Toowoomba has long been a major centre for commerce, industry and education. Wealthy pastoralists sent their offspring to one of the many private schools where they mixed with the children of local merchants and professionals. With suburban growth, especially since World War II, a stately city centre with lush parklands has had to compete with huge suburban shopping centres.
By the early 1840s most of the Darling Downs was taken up by pastoral runs. Near the intersection of the Eton Vale, Westbrook and Gowrie runs a rudimentary settlement occurred, convenient for passing stockmen. Known as The Springs, it included a permanent settler Thomas Alford. He named the place Drayton, soon after his arrival in 1842, after the village of Drayton in Somerset, England. About six km north-east of Drayton there was a marshland, Drayton Swamp. Its almost perennial dampness was an answer to the dry spells that beset Drayton, and in 1852 Alford moved his residence to the swamp area.
The location had good market garden land, a better track down the Range to Brisbane and more passing traffic. Local interests had the area surveyed for farm lots and a township. Alford named his residence Toowoomba, based on an Aboriginal expression describing the swamp or a small native melon (not endemic to the area). Neither has been verified.
FARMS, SCHOOLS AND GARDENS
Farm lot sales proceeded throughout the 1850s and urban settlement gradually moved from Drayton to Toowoomba. A hotel was opened in 1856, and another the following year, although the best in the district remained the Bull and Mouth (1847) in Drayton. Church of England and Presbyterian churches were opened in 1857 and 1859. In 1860 Drayton interests proposed the creation of a local government division to include both Drayton and Toowoomba, but the latter opposed any such union. Led by William Groom, Toowoomba achieved recognition as a municipality in 1860. Groom, formerly a transported convict and Drayton storekeeper, became Toowoomba's first mayor and a Queensland parliamentarian, ever intent on getting advantages for his local electorate.
Farmers prospered on the upland soils, and in 1866 the Toowoomba and Drayton Agricultural Society held its first exhibition. Horticulture preoccupied the local council who took control of the 26 ha Queen's Park, formerly a Crown Reserve, in 1865. Toowoomba's garden city reputation began with this park, 8 ha larger than Brisbane's Botanic Gardens.
William Groom chaired the formation in 1875 of the Toowoomba Permanent Benefit Building and Investment Society, a facility for local saving and building finance. Over 100 years later the Society amalgamated with another building society to form the Heritage Building Society and redevelop a city block for its new headquarters. With a population of about 4000 people Toowoomba was described in 1876 in the Australian Handbook:
Education in Toowoomba began with the Church of England St Luke's school in 1856. Three more private schools were opened before the first National School in 1865. Twenty more private schools were opened by 1900. The survivors of those early schools include Toowoomba Boys' Grammar (1876) and Christian Brothers' College (1899). Several more private secondary schools which opened during the next century made Toowoomba a regional educational centre. Agriculture and industry underpinned the economy. The Darling Downs were a fertile grazing and cereal-growing area and the upland ranges provided timber for mills, pasture for dairying and markets for agricultural implement makers. The Toowoomba Foundry (1874) began with farm equipment such as troughs, wool presses and wagons and diversified into wind pumps, steam engines and locomotives. Its Southern Cross wind pumps became a national emblem. Defiance Milling (flour) began in 1898 and by 1983 had 40% of Queensland's flour trade and bread market.
The approach from Brisbane to Toowoomba was by a toll road. Telegraphic communication with the capital began in 1861. In 1867 railway communication spread from Toowoomba, west to Jondaryan and east to Gatton. Rail connection to Brisbane was completed in 1876. Toowoomba and nearby Gowrie Junction became a railway hub with lines to Crows Nest, Wallangarra (New South Wales) Pittsworth and Allora (1886-97). Further branches from the main western line were opened to Haden, Millmerran, Cooyar and Cecil Plains (1910-19).
CAPITAL OF THE DARLING DOWNS
By 1900 most of the pastoral estates had been resumed for closer-settlement. The livestock saleyards, however, were kept busy with cattle from the western plains. A butter factory was opened by the Downs Co-operative Dairy Association in 1905 and by 1919 it had branch factories at Clifton, Miles, Dalby and Crows Nest. A similar enterprise arose from dairy farmers feeding skimmed milk to pigs, the Darling Downs Co-operative Bacon Association (1910), which constructed a factory at Willowburn, 4 km west of Toowoomba.
Toowoomba was described in the 1903 Australian handbook: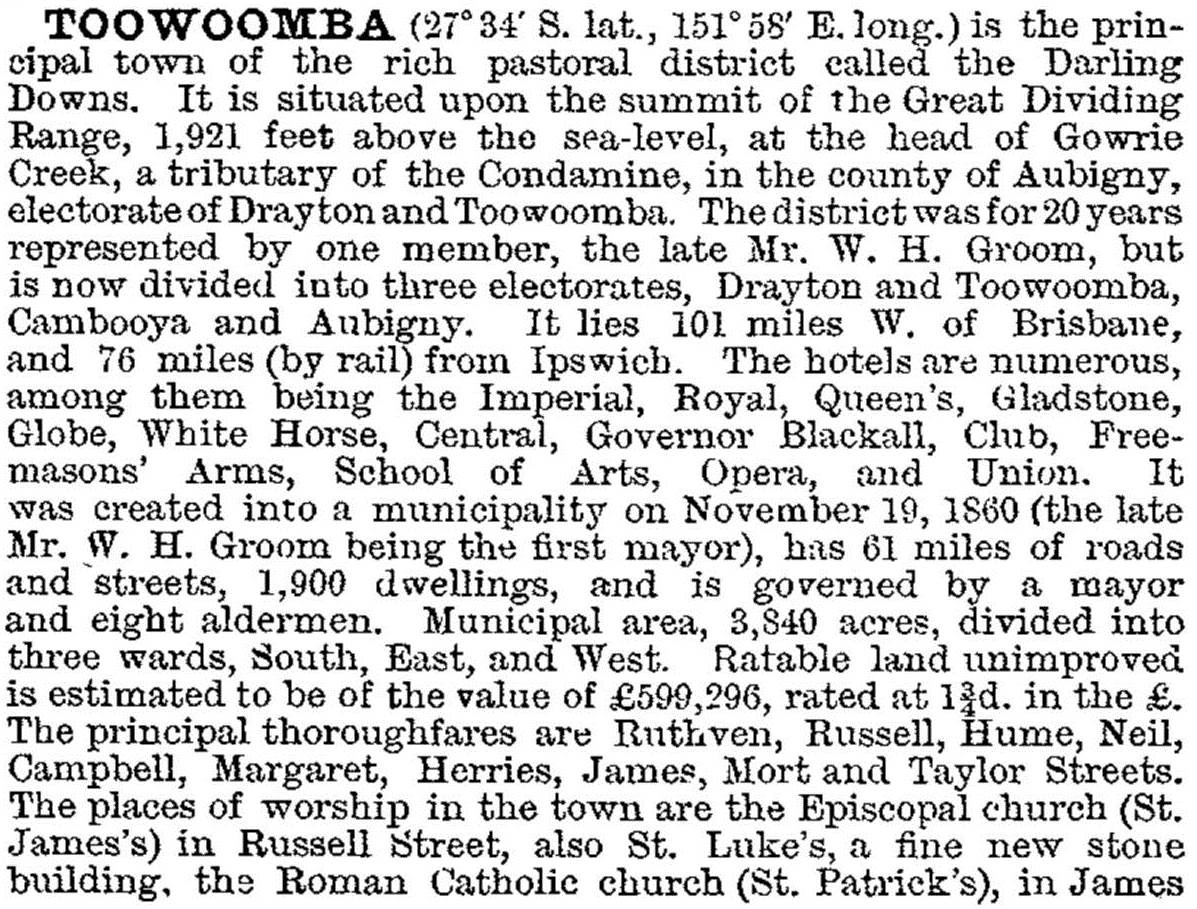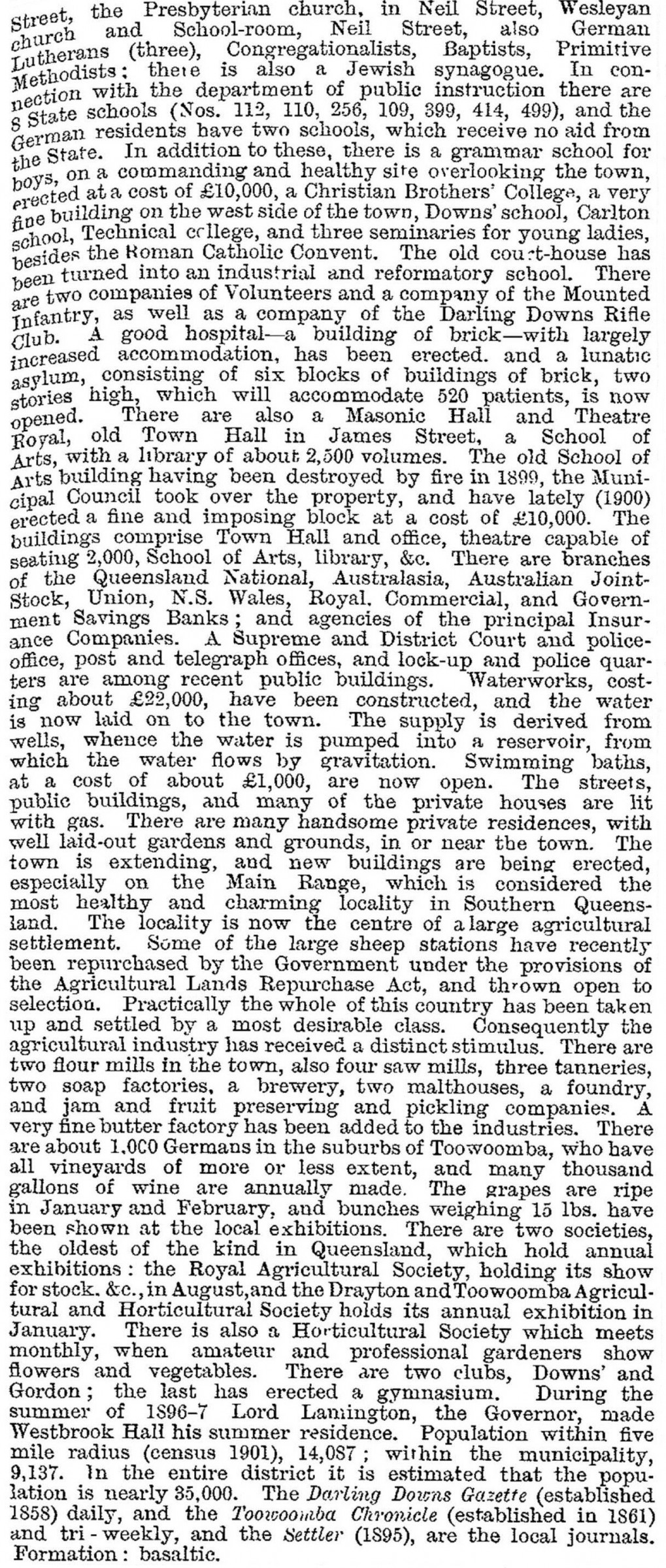 Toowoomba was known both as the 'Gateway to' and 'Queen City of' the Darling Downs, being raised to the status of 'city' in 1904. Its touristic and recreational qualities were confirmed by the Governor taking the Harlaxton homestead as his summer residence: the Darling Downs Souvenir booklet (1906) observed that 'nearly 2000 feet above the level of the sea Toowoomba is blessed with a glorious clime. Even the hottest summer days are followed by lovely cool nights'. It predicted that tourists would be attracted in large numbers.
For Anglo-Celtic and German populations, the ease with which exotics such as plane trees, willows and Norfolk Island pines grew in Toowoomba was a balm to heat-oppressed minds. Annuals and perennials grew equally well in a climate both temperate and sub-tropical. The Spring Carnival of Flowers became a major tourist attraction, with dahlias 10 inches in diameter. Architecture also tended to the exotic, avoiding the raised timber houses typical in other parts of the state, and using finely cut Helidon stone for public buildings. Monuments were erected to local notables and heroes, including George Essex Evans (patriotic poet) and Littleton Groom, lawyer and politician, son of William. William Peak, one of the founders and a life member of the Toowoomba Agricultural and Horticultural Society, was commemorated in a drinking fountain, while World War I casualties were remembered in the Mothers' Memorial.
In 1946 the Australian Blue Book described the 'Capital of the Darling Downs':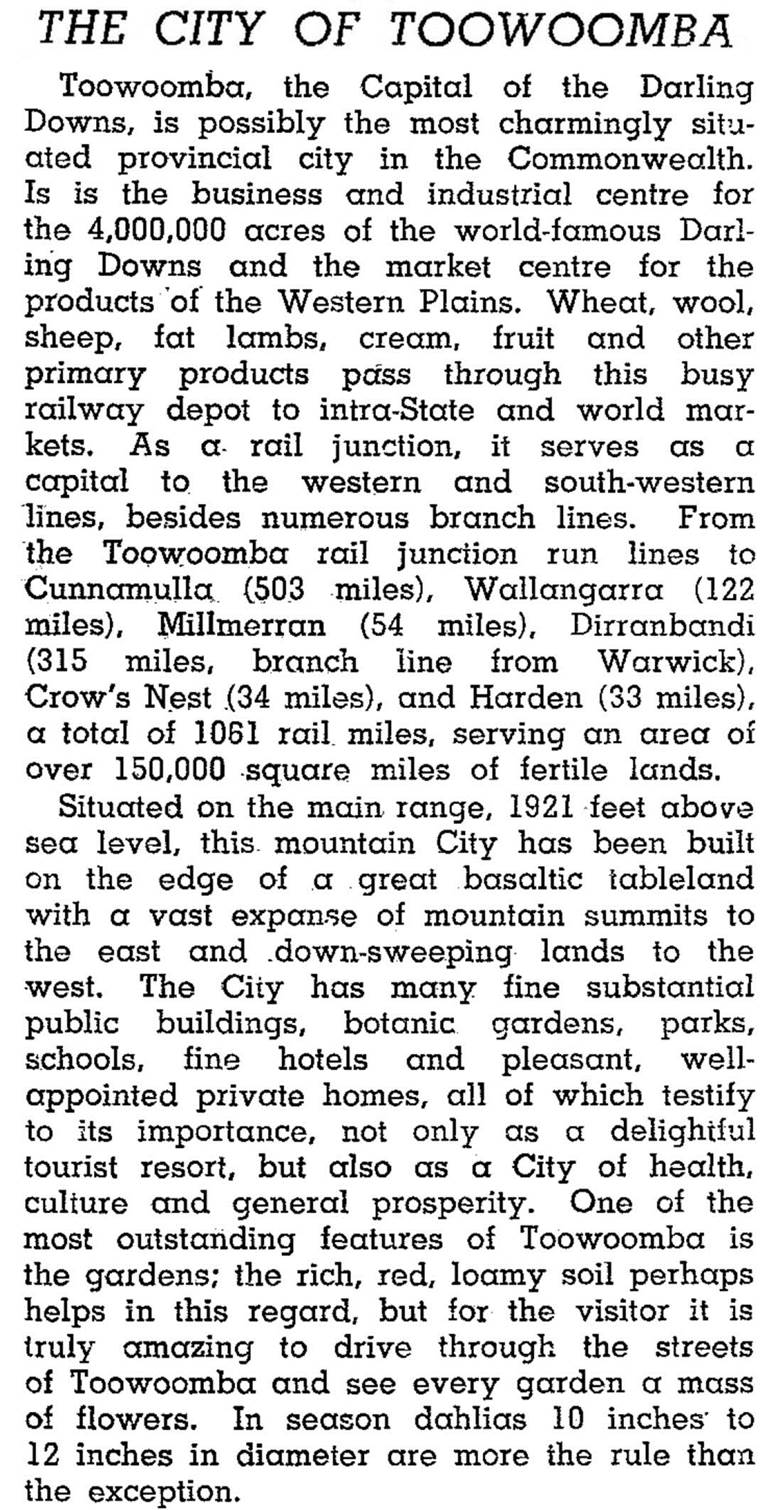 By 1949 its population was about 40,000. Half a century later this figure had doubled. Although its long term postwar growth did not match that of Townsville and Cairns, the population increase was impressive for an inland city. Manufacturing remained important, recording 13.5% of total employment in 1976 and 12.2% in 2001. This was despite the decline of the Downs dairy industry and the loss of the co-operative butter and bacon factories. Wholesale and retail employment, however, recorded more than one-fifth of total employment, 22.7% in 1976 and 22.4% in 2001. Ruthven Street and adjoining thoroughfares constituted the retail heart of Toowoomba until the 1980s when the Clifford Gardens (1983) and Village Fair (1989) drive-in centres to the west of the city centre were opened. The Grand Central, with a Myer department store, is a short distance from Ruthven Street. Suburban drive-ins on the residential outskirts are fewer than in other large regional cities.
In 1967 the Darling Downs Institute of Advanced Education was opened in south-suburban Darling Heights, converting to the University of Southern Queensland in 1992. Also on the outskirts of Toowoomba are the airport, Clifford Park Racecourse and the show ground, venue for the Royal Show each March. Easy access from Brisbane, first by rail and then by road, helped make Toowoomba a popular tourist destination. Motorists had access to comprehensive tour guides in the 1930s, and the Carnival of Flowers has been an annual drawcard since 1950. Jack McCafferty (1914-1999) developed a bus business in Toowoomba from 1940. McCafferty served as Lord Mayor from 1958 to 1967 and his bus business grew into a major national firm. Prior to the twentieth century, Toowoomba's importance grew as a regional commercial centre for distribution and finance, together with a growing role in education.
Toowoomba has about 50 sites in the central city and inner suburbs listed on the Queensland heritage register. In the main thoroughfare, Ruthven Street, there are the Defiance Flour Mill and the next door Foundry (c1911) near the railway station, Piggots department store (1910), the Alexandra building (1902), the White Horse Hotel (c1900) and the clock-towered city hall (1900). The railway station and yards (1873) are also heritage-listed. In Neil Street there are St Patrick's Cathedral (1883), a massive masonry edifice, Wesley Church (1877), the adjoining Empire Theatre (1911) and the court house (1876). Around the corner in Margaret Street there is the clock-towered former post office (1878), and elsewhere in Margaret Street the Strand Theatre (1915) and the former Toowoomba Technical College (1911). Other religious and civic buildings in the heritage list include the Anglican St James complex (1869) in Mort Street, the Anglican St Lukes complex (1897) in Herries Street, the Lutheran Concordia College (formerly Redlands, 1889) in Stephen Street and the Soldiers memorial hall (1923) in Herries Street.
Toowoomba's best-known philanthropist, Clive Berghofer, made his money out of suburban development. He served as Mayor of the Council from 1982-1992 and as National Party member for Toowoomba South from 1986 to 1991. He opposed the referendum on recycled water for Toowoomba in 2006, suggesting that his town ran the risk of being called 'Poowoomba'.
FLOODS 2011
In contrast to the water shortage in 2006, a change of climate delivered a downpour on 10 January 2011. Toowoomba's swamp history was amply demonstrated when a wall of water poured down East and West Creeks, merging into Gowrie Creek north of the railway station. There was localised flash flooding of Chalk Drive (beside East Creek), Margaret Street, Campbell Street and Russell Street. There were two drowning deaths. (The water proceeded onwards to the Condamine and, perhaps at some future time, the mouth of the Murray River.)
There have been previous flash floods, often blamed on poor drainage and silting, further evidence of Toowoomba's origin as a swamp.
In March 2008 Toowoomba City was amalgamated with Cambooya, Clifton, Crows Nest, Jondaryan, Pittsworth and Rosalie Shires to form Toowoomba Regional Council, with an estimated population of 153,000.
Toowoomba's census populations have been:
| Census Date | Population |
| --- | --- |
| 1861 | 1183 |
| 1881 | 5207 |
| 1911 | 10,636 |
| 1933 | 26,423 |
| 1954 | 43,149 |
| 1971 | 59,524 |
| 1986 | 73,390 |
| 1991 | 75,990 |
| 1996 | 83,350 |
| 2001 | 88,776 |
| 2006 | 95,265 |
| 2011 | 96,567 |
Robert Dansie, Morass to municipality: celebrating Toowoomba's 125th year as a municipality, Toowoomba, Darling Downs Institute Press, 1985
The Darling Downs, Queensland: illustrated and described, Toowoomba, Richard F. Stephens and David A. Ogilvie, 1906
Bert Hinchliffe, Toowoomba sketchbook, Adelaide, Rigby, 1977
Brian Hinchliffe, ed, They meant business: an illustrated history of eight Toowoomba enterprises, Toowoomba, Darling Downs Institute Press, 1984
Paul McNally, ed, School ties: a history of private schooling in Toowoomba, Toowoomba, Darling Downs Institute Press, 1989
Toowoomba: garden city of the Downs, Blackburn, Vic, Research Publications, 1985
This is the story of Toowoomba's first 100 years, Toowoomba, Toowoomba City Council, 1960
Centenary Heights, Cranley, Darling Heights, Drayton, East Toowoomba, Glenvale, Harlaxton, Harristown, Kearneys Spring, Middle Ridge, Newtown, North Toowoomba, Rangeville, Rockville, South Toowoomba, Toowoomba Regional Council and Wilsonton entries