Walkerston, a rural town on the Peak Downs Highway is six km west of Mackay. Situated on Bakers Creek in a sugar cane area, the settlement was known as Scrubby Creek in the late 1860s and early 1870s. It was probably named after John Walker, proprietor of the Fort Cooper pastoral station (Nebo) who took over John Mackay's Greenmount estate and the Homebush station in 1879.
Situated on the southern edge of the Pioneer River Valley, Walkerston is a few kilometres south-east of the Pleystowe sugar mill (1869), the Mackay region's longest continuously operating mill. The Alexandra mill (1868) was a few kilometres east of Walkerston.
By 1875 Walkerston had two hotels, several houses, an Anglican chapel and school, a provisional school and two stores. It was formally surveyed the next year, when a post office was opened. Presbyterian and Catholic churches were opened in the early 1880s, and in 1885 the Mackay to Eton railway, via Walkerston, was opened. Horse racing on any of three courses in the district was popular in the 1880s.
In addition to the various religious denominations in the area, a South Sea Islander mission was established in 1890 (the diminutive mission hall is listed on the Queensland Heritage Register). Later the Catholic church erected a convent and school (1924). In 1903, when Walkerston's population was approaching 400 people, it was described in the Australian handbook: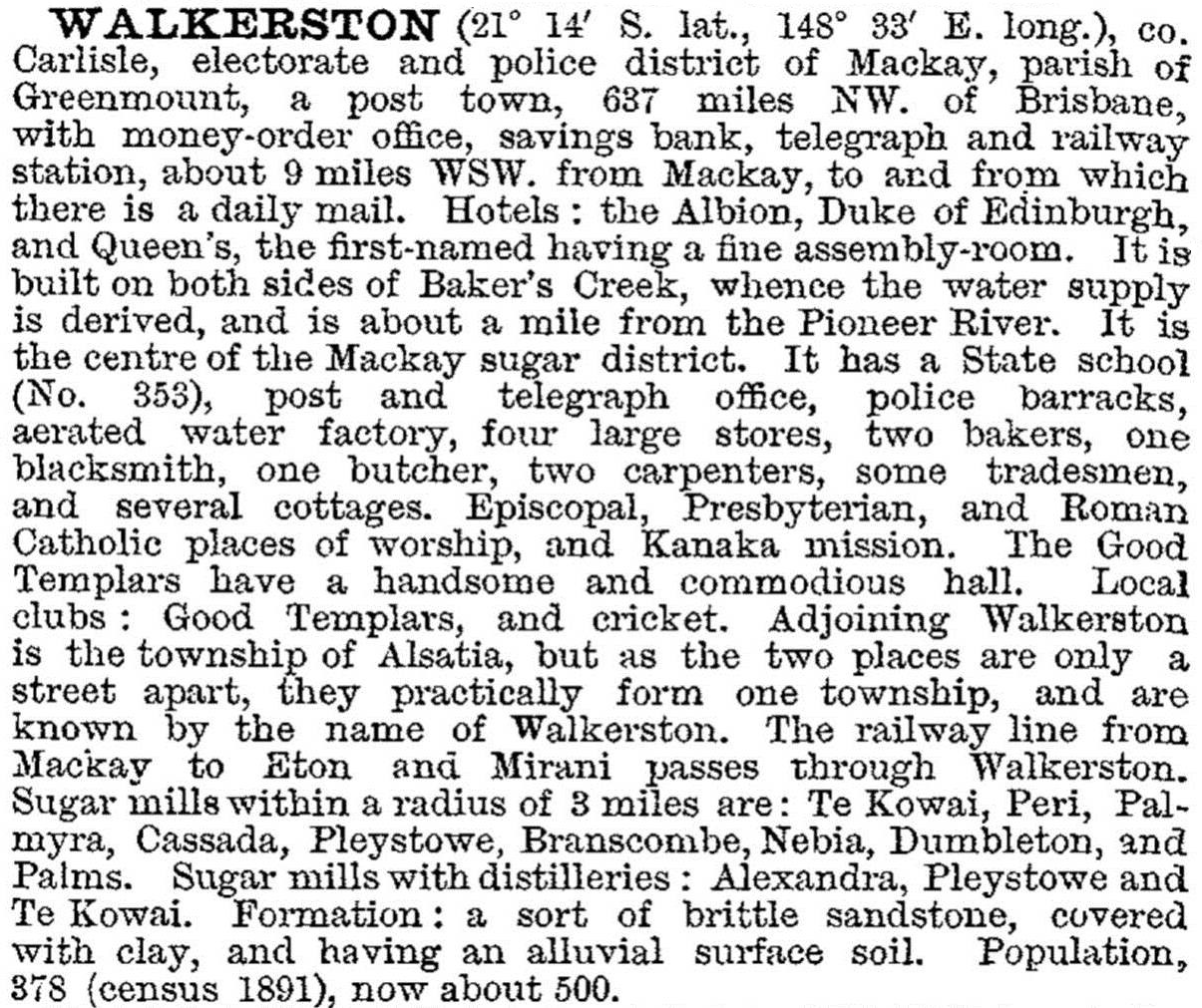 In about 1900 a six year old Arthur Fadden started school at Walkerston, and at 16 started work at the Pleystowe mill. Showing a flair for figures he became town clerk of Mackay in his early twenties and later a Country Party MP, Federal Treasurer and Prime Minister in 1941 when Menzies was ousted from leadership of the coalition.
Walkerston meanwhile, became a small sugar town, its trade somewhat disadvantaged by proximity to Mackay, but the three hotels and sporting facilities were well patronised. The Duke of Edinburgh Hotel (1882) is the sole surviving one in its original building; the Queens (1886) was burnt down in 1943 and the Albion (1872) was burnt down in 1964. It was rebuilt as O'Sheas Hotel-Motel. The Temperance movement's Good Templers Hall (1882) was acquired by the Presbyterian Church in 1921, sold to the Oddfellows Lodge and remodelled beyond recognition as a general purpose hall.
Greenmount, south-west of Walkerston, was John Mackay's original pastoral run. A much later owner erected the Greenmount Homestead (1915), a stylish verandahed Queenslander, which is heritage-listed and has become the district's museum. Its impressive proportions are matched by those of the surviving hotel and the double-storeyed Catholic church.
Walkerston is within easy reach of the westerly spread of suburban Mackay. It has a range of local shops, one of the larger examples being the converted Star picture theatre (c1923), and State (1880) and Catholic (1924) schools. A former State butcher's shop (1922) in Dutton Street is listed on the Queensland heritage register. Urbanisation sharply increased Walkerston's population from the early 1970s. The census populations have been:
| Census Date | Population |
| --- | --- |
| 1891 | 378 |
| 1911 | 533 |
| 1954 | 820 |
| 1976 | 1140 |
| 1996 | 1506 |
| 2001 | 1911 |
| 2006 | 2563 |
| 2011 | 3089 |
Pat Hamilton, Sugar from the scrub: a pictorial history of Walkerston, Moorooka, Qld, Boolarong Press with P. Hamilton, 1994
John Kerr, Pioneer pageant, Mackay, Pioneer Shire Council, 1980
J.M Andrew et al, Walkerston State School, 1947